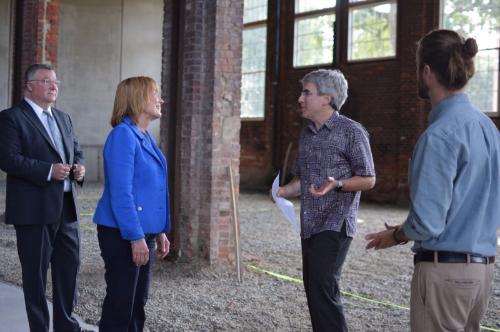 Credit Timothy LaRoche, Eagle Times.
CLAREMONT – Yesterday, Senator Maggie Hassan attended the Claremont MakerSpace Ground-Making Ceremony where she highlighted the importance of supporting innovators and entrepreneurs who drive New Hampshire's economy.
Senator Hassan introduced the Reigniting Opportunity for Innovators (ROI) Act, which would help provide the financial relief necessary for entrepreneurs to start up and grow innovative small businesses.
Click here for the full article or see below for excerpts:
Eagle Times: Officials praise future Claremont MakerSpace as construction begins
By Timothy LaRoche
CLAREMONT — When TwinState MakerSpaces President Steve Goldsmith placed his $18.42 bid for the Sawtooth Mill, he had new life in mind for downtown Claremont. Now, with work underway at the future site of the Claremont MakerSpace, the resurrection of the city's maker movement seems more promising than ever.
With no ground to break in the former mill building at 46 Main St., the MakerSpace held a ground-"making" event on Monday on the rugged gravel covering the interior. City and state officials and local makers came out for event — with only 25 chairs, more than half of the attendees stood for the duration of the larger-than-expected ground-making.
"This space will be the creative hub of the Upper Valley," Goldsmith said. "It will be the center of the maker community that we have been building here over the past few years."
… The building is also purposefully designed to encourage collaboration between the different makers in the space. With a metal shop, a woodshop, a wet room with sinks, an electrical room and even a jewelry workshop, there should be a little something for any creative individual.
… Sen. Maggie Hassan even toured the building with Goldsmith and Assistant Director Josh Bushueff before speaking at the event.
"If we unleash the talent and creative energy of each and every one of us, then all of a sudden, those skills come together with the collaboration we are talking about right here," Hassan said of the project. "When that happens, we have new business ideas, we have creative energy, our economy takes off, grows, and we create jobs, and we continue to get stronger and stronger."
###