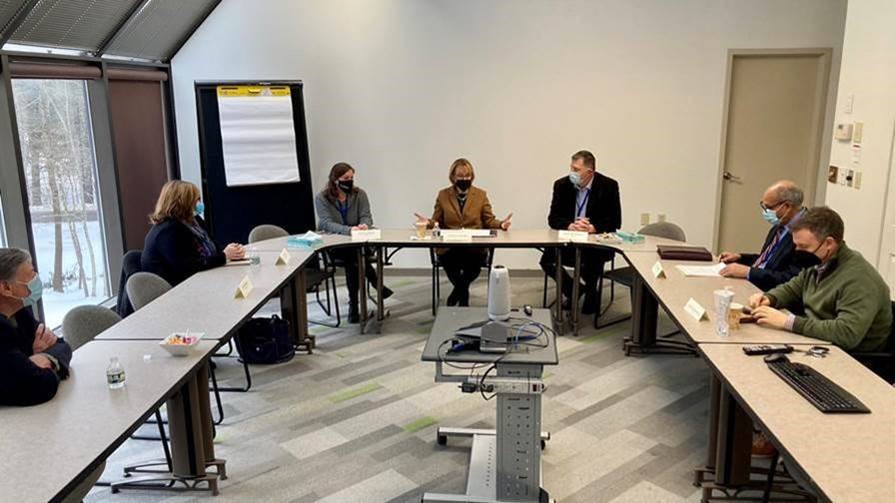 Senator Hassan holds roundtable discussion at Cirtronics Corporation in Milford.
MILFORD – U.S. Senator Maggie Hassan hosted a roundtable discussion at Cirtronics Corporation today where she brought together innovative businesses in New Hampshire to discuss supply chain challenges, supporting American manufacturers, and legislation that she will be introducing to make major investments in American manufacturing, which will strengthen supply chains and help ensure that the U.S. can outcompete China.
Today's roundtable comes as Congress is working toward an agreement on a comprehensive package to invest in American manufacturing and outcompete China. The Senate previously passed legislation that Senator Hassan helped introduce, and the House of Representatives recently passed its own bill to enhance American global competitiveness. Senator Hassan is now working to find a path forward to advance a comprehensive package that includes her bill to provide loans and grants to American companies that produce critical goods. These funds will help these companies bring manufacturing facilities and jobs back to the U.S.
"The first step is making sure that we invest right here at home in American manufacturing, which is also not only really important to outcompeting China, but it's also really important just for our own self-reliance and the creation of good jobs," Senator Hassan said. "One of the things I'm working on right now is a Senate bill that really focuses on how we can support manufacturing in this country with grants or loans, focused particularly on entities like semiconductors, military technology, solar panels, medical devices, and biotechnology."
During the roundtable, New Hampshire business leaders spoke about the need to outcompete China, the importance of investing in American manufacturing, and address supply chain issues.
"I think getting ahead of China is really a smart move," said Dave Patterson, President and CEO of Cirtronics Corporation. "There's two parts of that, which is the risk of us being so dependent on any country for our own safety and our own wherewithal to exist is certainly a very critical issue.'"
"First, I am glad that the U.S. government is starting to pay attention," said Gray Chynoweth, CEO and Director of Minim in Manchester. "We have an industrial policy that no longer works for American workers and no longer works for American businesses. As Bob Dylan once said 'The Times They Are A-Changing' -- businesses are working like the Dickens to keep up, and we are excited that American government policies are starting to change with the times. Second, I'm glad that the policies we're discussing today, and the ones that have been passed and are being debated in Washington, are enabling and focused on resiliency, as you talked about."
"I think where we see the supply chain challenges - we're a big global company, we have stuff that comes in and out of New Hampshire from all over the world," said David Nichols, US Corporate Affairs Executive at MilliporeSigma in Jaffrey. "And we saw some of the same stresses...with the ports and some of the challenges there. I think just the uncertainty of who even to turn to in some those issues, there's a lot of confusion about who had jurisdiction over the ports, who controls this, where do you even go to have a conversation about relief and some of those issues, and I think that was a challenge for us."
The bill that Senator Hassan will be introducing would:
·       Invest more than $40 billion in grants and loans to manufacturing companies and related entities to help support domestic production of goods that are critical to our national security and economy;
·       Create an office at the Commerce Department focused on supply chains to help disburse these grants and loans;
·       Create a national strategy for supply chains and in general prepare the U.S. to better handle future supply chain disruptions.
This bill is part of Senator Hassan's continued efforts to support innovative businesses in New Hampshire and across the country. Senator Hassan previously introduced the bipartisan American Innovation and Jobs Act to support research and development (R&D) investments by innovative small businesses and startups.
###