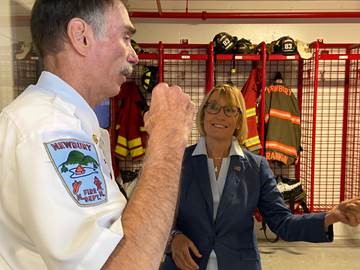 Senator Hassan attends ribbon cutting ceremonies for Laconia's Colonial Theatre (left) and Newbury's Fire Station (right).
LACONIA – In case you missed it, on Friday U.S. Senator Maggie Hassan attended the ribbon cutting ceremony and grand opening for Colonial Theatre in Laconia, where she celebrated the historic efforts to revitalize Colonial Theatre.
Over the weekend, Senator Hassan also attended the ribbon cutting and grand opening ceremony for Newbury's Fire Station.
See below for excerpts from The Laconia Daily Sun's coverage of the ribbon cutting ceremony for Colonial Theatre:
The Laconia Daily Sun: Dignitaries, residents celebrate the opening of Colonial Theatre, a downtown 'jewel'
By Michael Mortensen
More than a century ago — 107 years to be exact — Benjamin Piscopo built the Colonial Theatre because wanted to bring people together. On Friday, government leaders, members of the local business and civic community and ordinary citizens gathered to celebrate the opening of the Colonial and usher in a new era when the theater once again will become a place where people will come together for community events and to have fun.
About 200 people filed into the restored theater, resplendent with its ornate Italian baroque decor, to celebrate the completion of the $14 million project which began six years ago when the Belknap Economic Development Council purchased the building, although the actual refurbishment did not begin until early last year.
…Speakers, including U.S. Sen. Maggie Hassan, U.S. Rep. Chris Pappas, and Gov. Chris Sununu, praised the undertaking and predicted how the refurbished theater would bring new economic vitality to the city and the Lakes Region.
###