August 29, 2019
Senator Hassan Marks 5th Anniversary of the Resolution of the Market Basket Disputes with Visit to Londonderry Market Basket
Senator Spoke with Customers, Market Basket Leaders About What the Business Means to Granite Staters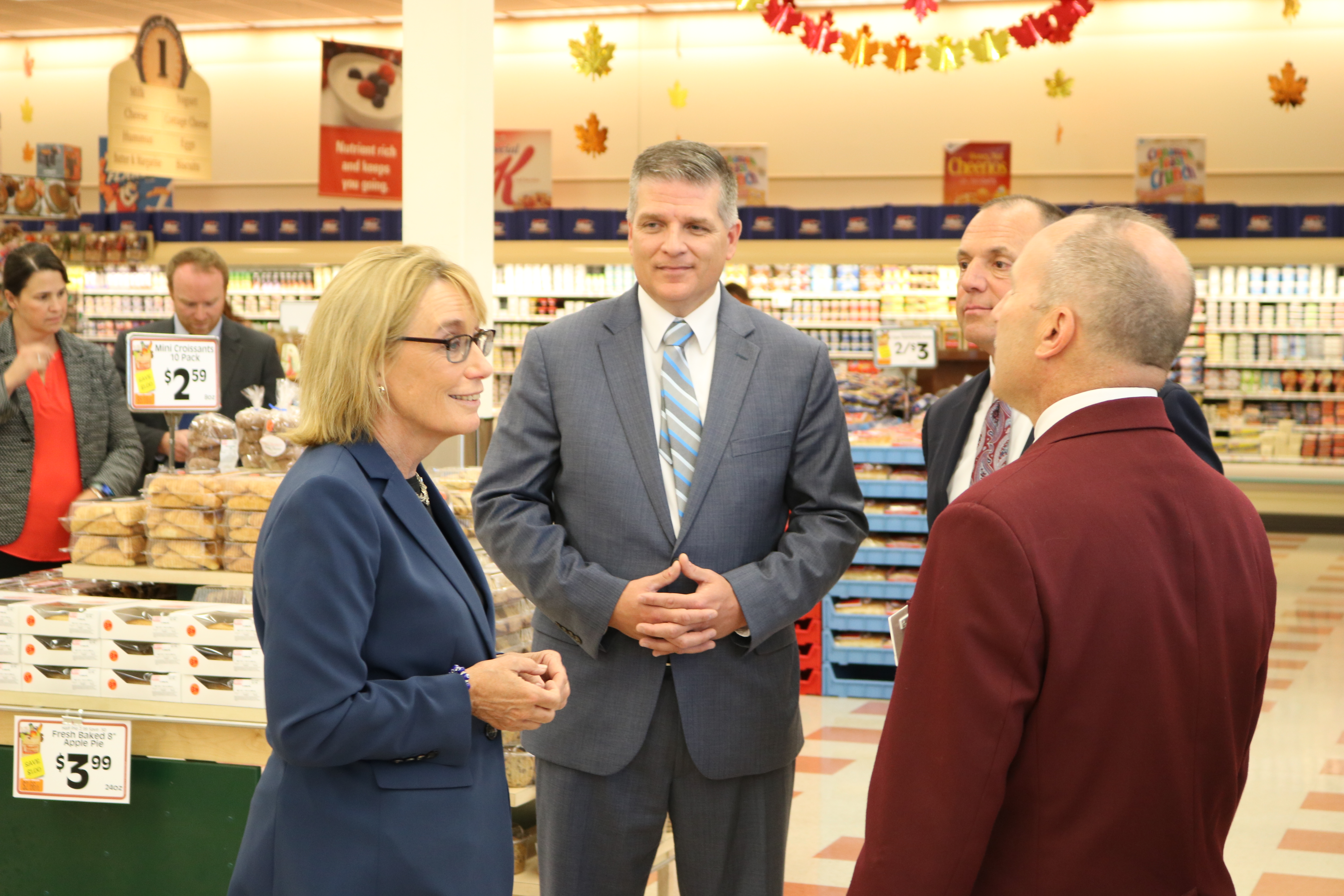 Senator Hassan at the Market Basket in Londonderry.
LONDONDERRY – Yesterday, Senator Maggie Hassan visited the Londonderry Market Basket, greeting shoppers and employees on the fifth anniversary of the resolution of the dispute that led employees and customers to protest and boycott to save the company.
See below for highlights from the Senator's visit and interviews about the 5th year anniversary:
Union Leader: Market Basket thrives five years after near-collapse
By Kevin Landrigan
LONDONDERRY — Five years ago this week, employees and customers declared victory after a six-week standoff that forced executives of Market Basket to reverse the firing of the grocery chain's popular CEO.
Then governor, U.S. Sen. Maggie Hassan, D-NH, had a bird's-eye view of this unprecedented show of employee and consumer clout.
Hassan was part of a four-hour, private negotiating session with the warring cousins at the top of the Demoulas family that owns the chain.
The summit on Aug. 17, 2014, was at the home of then-Massachusetts Gov. Deval Patrick in the Berkshires.
Insiders maintain that the ownership team led by Arthur S. Demoulas, which had fired Arthur T. Demoulas as CEO, realized after that meeting they had to allow Arthur T. to buy back control of the company — for a reported $1.5 billion — or risk losing the entire franchise.
Over the six weeks of the dispute, Market Basket had lost 90 percent of its customers and nearly all its rank-and-file work force left the job in protest of Arthur T.'s firing.
"That's what makes this story so compelling and unique because we don't often see this in the corporate world today," Hassan said. "Again it was the power of the employees and the customers understanding that Artie T's leadership had true impact and consequences in creating a community of grocery stores that was much more than grocery stores to people.
"They were going to stand up for the community they believed in, and it was a great example of what that kind of action can accomplish."
A few days after the deal, Arthur T. Demoulas greeted Hassan and employees at the Market Basket in Londonderry with hugs for their roles in making the buyout possible.
"It was very clear to me when Market Basket reopened, how exciting it was for people to experience that level of community again," Hassan said.
[…]Hassan recalled that as the fight dragged on, many of her constituents were getting antsy for a solution.
"I think what was clear to me was the level of impact that the dispute was having throughout New Hampshire," she said. "Businesses, suppliers, vendors — they were all affected," Hassan said.
"I felt very strongly while this wasn't the same thing as a natural disaster it was having the same impact, and if it were a natural disaster, we would have stood up a lot of resources in the state to address it."
The grocery store soap opera dominated the news for weeks and consumers became obsessed with it, Hassan said.
"I can remember talking with a waitress in Portsmouth who was worried and asked me, 'Governor, when will Market Basket get up and running because I depend on it to afford to buy my groceries every week,''' Hassan said.
"I got that question all over New Hampshire wherever I would go."
[…]All Market Basket employees received generous benefits, including participation in a profit-sharing program and a scholarship program for employees in college.
The company had a reputation for promoting from within at all its 71 stores, and at the time of the walkout, many in upper management had been there for decades.
When employees refused the new management's order to return to work or lose their jobs, mass firings of employees on July 20 moved Hassan and Patrick to organize the summit with the principal players.
"I am very grateful to my colleague, then fellow Gov. Patrick, because as I talked to him about the impact to his state as well, we both thought there might be ways we could help the two warring sides of the family to come together for the greater good," Hassan said.
[…]Hassan said history may not fully comprehend how close this CEO showdown came to killing the company.
"Certainly I think all of us were really concerned about that at the time," Hassan summed up.
"The collective action of employees and customers forced the issue. I credit both sides with being willing to work together to get to a solution."
WMUR: Market Basket workers, customers recall fight 5 years ago that saved CEO
LONDONDERRY, N.H. —Five years ago, Market Basket employees and customers stood together to save the company's CEO and its culture.
The shelves were stocked and customers roamed the aisles Wednesday at the Londonderry Market Basket, a far cry from the summer of 2014, when the supermarket chain was in the middle of a corporate battle for ownership.
[…]U.S. Sen. Maggie Hassan, D-N.H., who was governor at the time, met with shoppers and employees. The workers said they were fighting for a corporate culture that cared about them as people and said when they asked for help, the customers answered the call.
Eagle Tribune: Market Basket marks 5-year anniversary of boycott end
By Julie Huss
LONDONDERRY — It was a big anniversary Wednesday as staff and management at the Londonderry Market Basket celebrated the company's success after a troubling standoff years ago forced workers to protest and loyal customers to do their shopping elsewhere.
[…]To celebrate the five-year anniversary, U.S. Sen. Maggie Hassan, D-N.H., paid the Londonderry store a visit Wednesday to greet customers and staff. Hassan was New Hampshire governor while the DeMoulas saga played out.
It was important to come back to Londonderry on the anniversary, Hassan said, as she was at the store soon after Arthur T. was reinstated to the top position.
"This meant a lot to us and meant a lot to the people of New Hampshire," Hassan said. "So many people were affected."
Hassan recalled five years ago when traveling as governor, she would often frequent local diners or restaurants, hearing stories of how the Market Basket boycott had trickled down to affect many businesses in the state.
She said the Market Basket outcome shows the company's commitment to its staff and legacy.
"It's a business that stands up for its workers," she said.
###
---
---
Next Article
Previous Article