March 05, 2019
Senator Hassan Tours L3 Technologies in Londonderry to View Company's Next-Generation Technology that Supports America's Military
LONDONDERRY – In case you missed it, Senator Maggie Hassan yesterday toured L3 Technologies Integrated Land Systems in Londonderry, where she viewed the company's next-generation technology that supports America's military and discussed her efforts to promote workforce development and science, technology, engineering, and mathematics (STEM) education in the state. L3 Technologies Integrated Land Systems is an innovative defense contractor focused on supporting the armed forces by producing weapon-and helmet-mounted technology. For more information, click here.
As part of her efforts to bolster workforce development, Senator Hassan will reintroduce the Gateway to Careers Act, which supports career pathways strategies that combine work, education, and support services to help individuals earn industry-recognized credentials and help ensure that innovative businesses have the workforce they need to thrive.
Click here for the full Eagle Tribune story or see excerpts below:
Eagle Tribune: Hassan tours L3 Technologies in Londonderry
By Julie Huss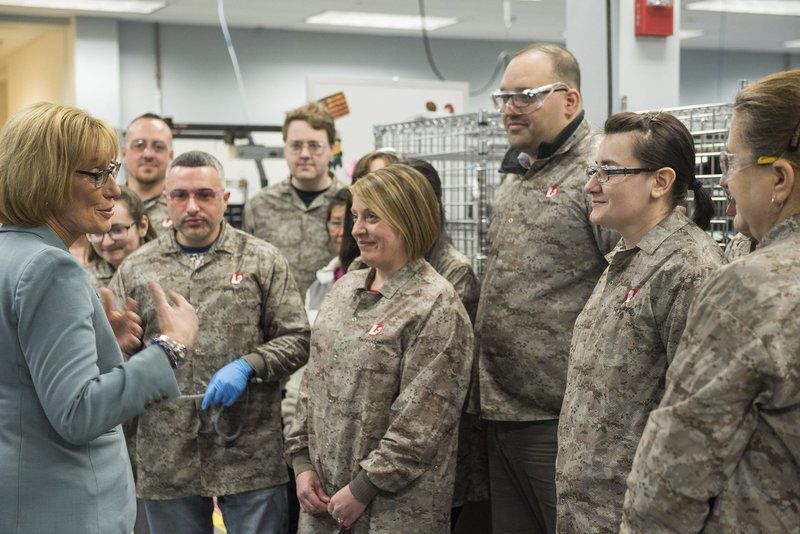 Photo credit: Amanda Sabga
LONDONDERRY — A local manufacturing facility that creates advanced technology systems for the U.S. military was in the spotlight Monday as U.S. Sen. Maggie Hassan, D-N.H., paid a visit to see the work up close.
Hassan came to L3 Technologies Integrated Land Systems Monday to take a tour of the Akira Way facility while viewing some of the products, components and systems currently built to support all branches of the U.S. military here and internationally.
[…] The senator viewed employee work stations and heard about improvements the company is making to support its workforce and what jobs are integral to more STEM-based work.
Products are manufactured and built at the Londonderry site with thousands of shipments sent to military personnel around the world.
Last fall, the company received a $90 million delivery order from the U.S. Army Contracting Command for the first lot of its new Enhanced Night Vision Goggle — Binocular.
[…] "L3 continues to invest in technology and innovation that make our world a safer place," said Lynn Bollengier, vice president and general manager of L3 Warrior Mission Solutions. "We are proud to support the U.S. Army and ensure that our soldiers have the technology and capability to complete their mission and return home safely."
… During her tour, Hassan met with some workers who showed off what they do to support the military. Employees wear a specially designed camouflage uniforms, a choice made by the personnel themselves to help support the military and the work they do. Work stations also have LED lighting upgrades and other ergonomically-supportive improvements to help work staff.
[…] Hassan heard about how employees come to L3 to be trained on the systems, often being mentored or working as a "shadow" for other staff for several weeks or longer until qualified for the job.
Hassan is strong on her efforts to strengthen workforce development and support those careers that support science, technology, engineering and math, or STEM, education, something she called vital to meeting the demand for those highly skilled workers contributing to national defense.
Bollengier noted that workforce coming out of career and technical programs at area high schools or colleges is "very important" for the skilled workers L3 needs.
Hassan said having the opportunity to see good work up close in the Granite State that supports a much wider realm of the military help makes her appreciate just how hard and important this work is.
She told employees they would give her a lot "brag about" when it came to heralding what's being done in Londonderry to support the military and this type of workforce. The senator also credited the hard work of all who create the military parts and systems at L3 Technologies.
"They are making a huge difference here," Hassan said, adding the work she was able to view during her tour is important to not only the military but also the state and national economy and future skilled workforce. "I want to partner with them and help."
###
---
---
Next Article
Previous Article