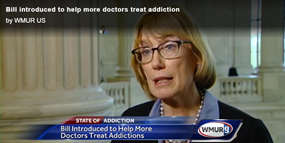 WASHINGTON – In another effort to combat the drug crisis, U.S. Sen. Maggie Hassan is co-sponsoring a bill to make it easier for doctors to prescribe medications to help ease people off opioids.
…"This continues to be an epidemic that is taking lives every day," she said.
The bipartisan bill would expand training for physicians in medical school so they are able to prescribe medications like methadone and naltrexone to ease people off using opioids.
…The bill would increase that by speeding up the process to get a waiver for physicians to prescribe them as soon as they finish medical school.
"Right now, they have to go through a whole other process after medical school if they want to do that, so we wanted to streamline this and make sure doctors graduating from medical school are qualified and ready," Hassan said.
Dr. Kelly Clark, of the American Society of Addiction Medicine, said the bill is already receiving praise from the medical community.
"When people get on these medications to treat their addiction, they gain control of their drug use and gain control of their lives," Clark said. "And that is how we know it's not substituting one drug for another."[…]
###