September 13, 2017
At Rural Issues Summit, Senator Hassan Highlights Importance of Supporting New Hampshire's Rural Communities, Combating the Substance Misuse Crisis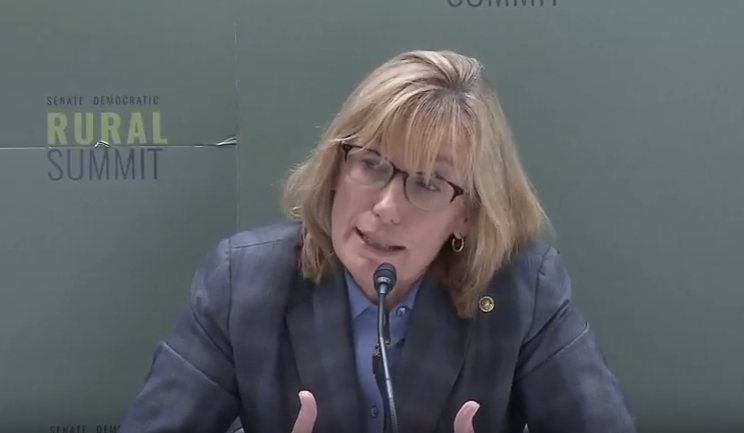 Click here for video of Senator Hassan's remarks.
WASHINGTON – Today, Senator Maggie Hassan participated in a summit with other Senate Democrats and state and national leaders to discuss critical issues for rural communities in New Hampshire and across America, including the heroin, fentanyl, and opioid crisis that is hitting New Hampshire's rural communities particularly hard.
Senator Hassan focused on important steps that must be taken to stem the tide of addiction that is devastating communities in New Hampshire and across the country.
"New Hampshire's needs I think are reflective of many other rural areas, we simply don't have enough treatment places or providers in our rural areas," Senator Hassan remarked.
Senator Hassan emphasized the critical role that Medicaid, Medicaid expansion, and coverage for essential health benefits – including mental health and substance use disorder services – covered under the Affordable Care Act, have played in combating the substance misuse crisis in New Hampshire.
"We have to obviously continue to fight for Medicaid coverage and Medicaid expansion in particular in my state has been hugely important to our capacity to treat people with substance use disorder…but it is really important that as we go through bipartisan attempts to reform the Affordable Care Act that we continue to have essential health benefits that would provide that critical coverage," Senator Hassan continued.
Senator Hassan also highlighted the importance of the federal government continuing to work to allow providers to increase the number of patients they are allowed to provide Medication Assisted Treatment, as well as addressing the antiquated policy that limits Medicaid coverage for substance misuse treatment to facilities with fewer than 16 beds given the size of the epidemic. To address that issue, Senator Hassan has cosponsored the bipartisan Medicaid Coverage for Addiction Recovery Expansion (Medicaid CARE) Act, which modifies the Medicaid Institutions for Mental Disease Exclusion from 1965 by allowing Medicaid to reimburse for services in larger substance misuse and behavioral health treatment facilities with up to 40 treatment beds for up to 60 consecutive days.
Additionally, Senator Hassan stressed the importance of supporting community health centers, which provide key support in underserved areas of New Hampshire, as well as the first responders and law enforcement officers combating the substance misuse crisis on the front lines.
###
---
---
Next Article
Previous Article