October 27, 2017
During Commerce Committee Hearing, Senator Hassan Questions Witnesses from the Satellite Industry on Broadband Connectivity for Rural Granite Staters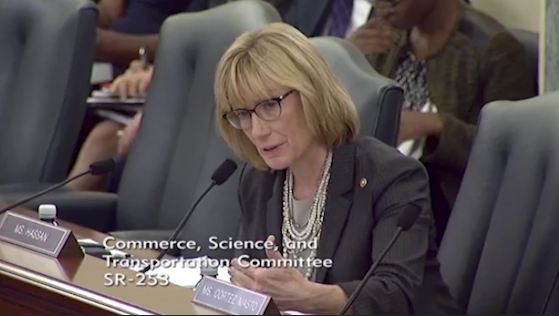 Click here for video of the hearing.
WASHINGTON – Senator Maggie Hassan questioned witnesses from the satellite industry about the importance of closing the rural-urban divide on broadband connectivity during a hearing of the Senate Committee on Commerce, Science and Technology on Wednesday. Senator Hassan highlighted what she has heard from Granite Staters, including during a Commerce field hearing she hosted in Keene earlier this month, who express frustration with their lack of broadband connectivity in rural areas of the state.
Senator Hassan pressed the witnesses to explain how satellites can provide a broadband solution for states like New Hampshire. Patricia Cooper, Vice President of Satellite Government Affairs for SpaceX, said "it's the problem that all of us here are geared to solve… it underlies the goal that all of the companies here on the panel have." Ms. Cooper explained that her company would launch "constellations of satellites with multiple satellites in view" so that customers would not be bound to "one single path to reach a specific satellite." Cooper explained that this would "allow some currently blocked customers to have access to an infrastructure of high speed capability and reliability."
Greg Wyler, Founder and Executive Chairman of OneWeb, suggested that the key to providing reliable, affordable, and convenient access in rural areas, "especially when you get into the White Mountains where you actually can't see through the mountains to hit satellites," is the equipment used to receive the wireless signal. Wyler predicted that OneWeb's hardware would be embraced by Granite Staters who simply want to know "is it cheap, can I install it easily, and do I get really good internet access?" He added that his company is working to "flip rural on its head. Making rural faster than suburban. So, there's no reason that rural needs to have that penalty."
Senator Hassan convened a field hearing of the Commerce Committee in Keene, New Hampshire, where she was joined by Federal Communications Commission (FCC) Commissioner Jessica Rosenworcel to highlight the importance of expanding broadband infrastructure, especially in rural areas throughout New Hampshire and across the country. Senator Hassan also highlighted her work to expand broadband technologies and close the digital divide between urban and rural areas in New Hampshire and across America, including the bipartisan AIRWAVES Act she introduced with Senator Gardner (R-CO) that would create a spectrum pipeline to avoid a "spectrum crunch," as well as leverage the success of spectrum auctions to help close the urban-rural divide.
###
---
---
Next Article
Previous Article