January 18, 2018
During HELP Hearing, Senator Hassan Questions Higher Education Experts on Strategies to Increase Graduation Rates, Lower Student Loan Debt Burden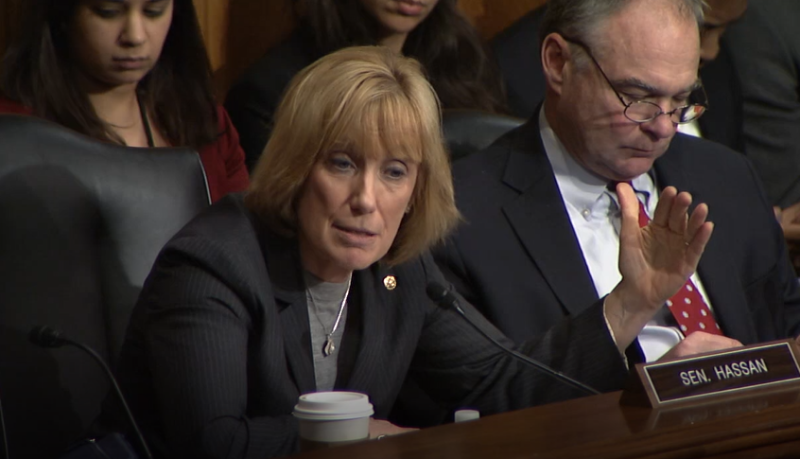 Click here for video of the Senator's questions.
WASHINGTON – During a Health, Education, Labor, and Pensions (HELP) Committee hearing today, Senator Maggie Hassan questioned higher education experts about how to help students complete degrees and the harmful impact of a proposed graduate student loan cap on students.
Senator Hassan noted that while college enrollment for some students has been on the rise, college completion rates continue to lag, and more than a quarter of low-income students are dropping out before obtaining a credential. Asked by Senator Hassan what additional supports can help students complete a degree, Dr. Russell Lowery-Hart, President of Amarillo College, said "[Amarillo College has] built a social services system that connects students to food pantries, clothing closets, child care, and community resources that already exist. Since we've implemented an intensive social services system on a case management process, our completion rates have gone from 19 percent in three years, to 45 percent in three years."
Senator Hassan also highlighted the importance the Graduate PLUS Loan program, which allows graduate students to borrow up to their cost of attendance and have the protections of Direct Loans rather than be forced to borrow in the much more selective private loan market. Under the House Republicans' proposal for the Higher Education Act, the amount graduate students can borrow would be capped at $28,500, far below what many graduate and professional programs actually cost.
###
---
---
Next Article
Previous Article