February 07, 2018
During Homeland Security Committee Hearing on DHS Reauthorization, Senator Hassan Presses DHS Officials on Intelligence Sharing, Election Infrastructure Security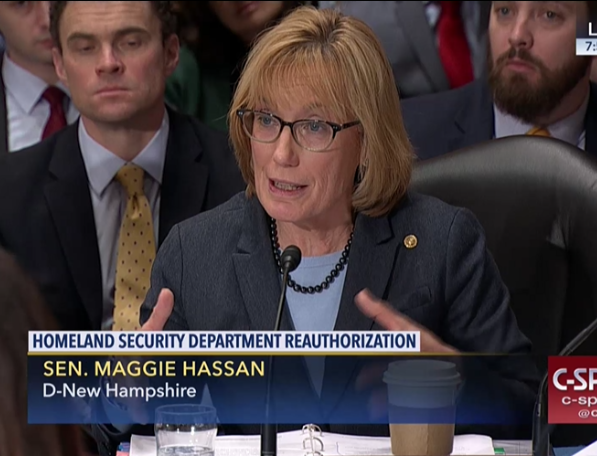 Click here for video of the Senator's questions.
WASHINGTON – During a Senate Homeland Security and Governmental Affairs Committee hearing today on the Department of Homeland Security (DHS) reauthorization, Senator Maggie Hassan pressed DHS officials on the importance of effective intelligence sharing across the department's agencies and the need to ensure that the nation's election infrastructure is secure.
Senator Hassan asked DHS Deputy Secretary Elaine Duke and Under Secretary for Management Claire Grady about the DHS Data Framework, an initiative to unify data under DHS to help intelligence analysts better identify potential terrorist threats. Asked by Senator Hassan to describe "the value of the DHS Data Framework project and the priority the Department places on this initiative," Deputy Secretary Duke said "It's value is – I can't tell you how strong. And it is a top priority. The Data Framework is essential for moving forward against terrorism, [transnational criminal organizations], drugs."
Senator Hassan today introduced the DHS Data Framework Act to help DHS implement this initiative and better identify potential terrorist threats.
Senator Hassan also asked Deputy Secretary Duke about the scope of DHS's efforts to secure our nation's election infrastructure and what specific actions it has taken to advance the mission. Deputy Secretary Duke said "principally, we're doing assessments of the systems as requested by the state and local governments. We've also made available our SAVE system for checking rosters."
Christopher Krebs, Acting Homeland Security Under Secretary for the National Protection and Programs Directorate (NPPD), added that there are "three principal lines of effort: information sharing, technical support, and instant response planning." Senator Hassan confirmed with Krebs that DHS is also providing state and local officials with security clearances, including access to secure facilities that can house classified information on threats to voting systems.
###
---
---
Next Article
Previous Article