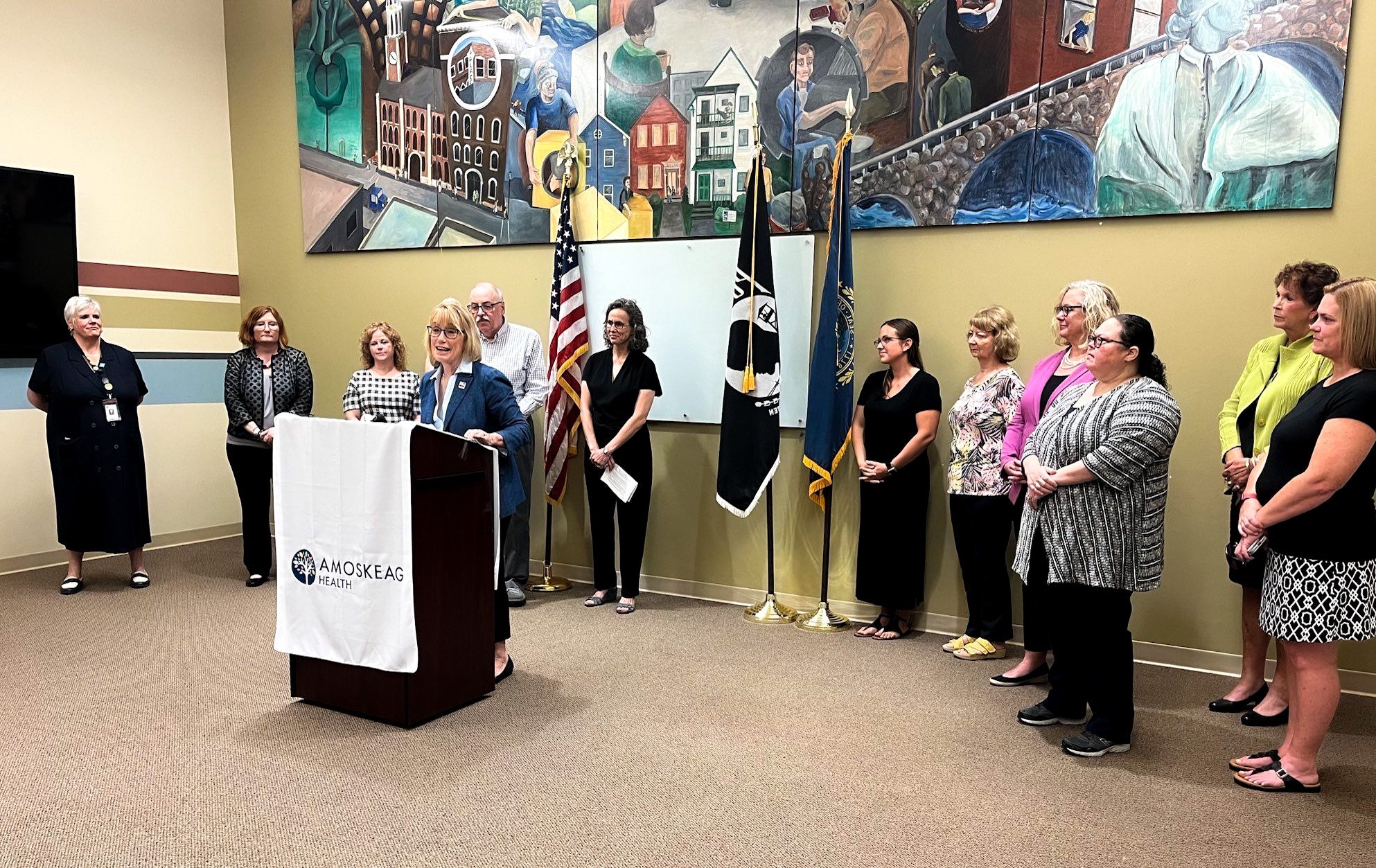 ­Senator Hassan Speaks at Press Conference at Amoskeag Health
MANCHESTER – U.S. Senator Maggie Hassan (D-NH) held a press conference at Amoskeag Health in Manchester on the new measures that she fought for to lower prescription drug prices in the Inflation Reduction Act. Senator Hassan and colleagues passed the package this past weekend, and it includes key priorities that Senator Hassan pushed for to bring down prescription drug and energy costs for Granite Staters. AARP and Amoskeag Health leaders discussed the impact of Senator Hassan and colleagues' bill.
"Affording life-saving medications has been getting harder and harder for some families to make agonizing decisions, all while Big Pharma is raking in record profits," said Senator Hassan at today's event. "At a time when the American people have dealt with rising costs in a number of areas, addressing the skyrocketing costs of prescription drugs could not be more urgent. That's why it is really exciting that over the weekend I joined with my colleagues to pass the Inflation Reduction Act, which will deliver on our commitment to lower costs, fight inflation, and reduce the deficit, while also tackling the existential threat of climate change."
"Enacting this bill is a major victory for American families who are struggling with their health care costs," said Christina FitzPatrick, state director of New Hampshire AARP. "Senator Hassan, thank you for all your work to get this done. AARP fought hard for this. We will continue to fight to make sure that people can choose how they live as they age, and I look forward to working with all of you."
"Affordable access to prescription drugs is essential for many individuals living with mental illness," said NAMI New Hampshire Executive Director Susan Stearns. "Too often cost and insurance barriers prevent people from reliably accessing necessary treatment, which can prevent them from living a full life in their community. NAMI NH is grateful to Senator Hassan for her leadership on this issue." 
The Inflation Reduction Act includes key priorities that Senator Hassan pushed for such as:
Allowing Medicare to negotiate prescription drug prices, a measure that Senator Hassan has pressed for, which will bring down the cost of prescription drugs for Medicare beneficiaries and help drive down prices across the board
Extending American Rescue Plan provisions that Senator Hassan helped secure to lower health insurance premiums for Granite Staters and Americans who buy insurance through the Affordable Care Act (ACA) marketplaces. Due to this measure, Granite Staters who get their health insurance on the ACA marketplace are, on average, paying almost half as much in premiums and saving nearly $1,000 per person per year
Providing a tax cut to families to help lower energy bills by making energy-efficient home upgrades such as updating an HVAC system or even windows or doors.

This provision is based on the tax cut in Senators Hassan and Collins' previously introduced bipartisan bill, the Home Energy Savings Act

Investing in the clean energy economy, including tax credits to increase manufacturing of clean energy technology – which can help bring down costs for families and businesses, create clean energy jobs, and reduce reliance on Big Oil or foreign countries
Doubling the refundable research and development (R&D) tax credit for small businesses and startups, a bipartisan measure that Senator Hassan wrote and pushed for. As Governor, Hassan successfully worked to double and make permanent the state's R&D tax credit
###