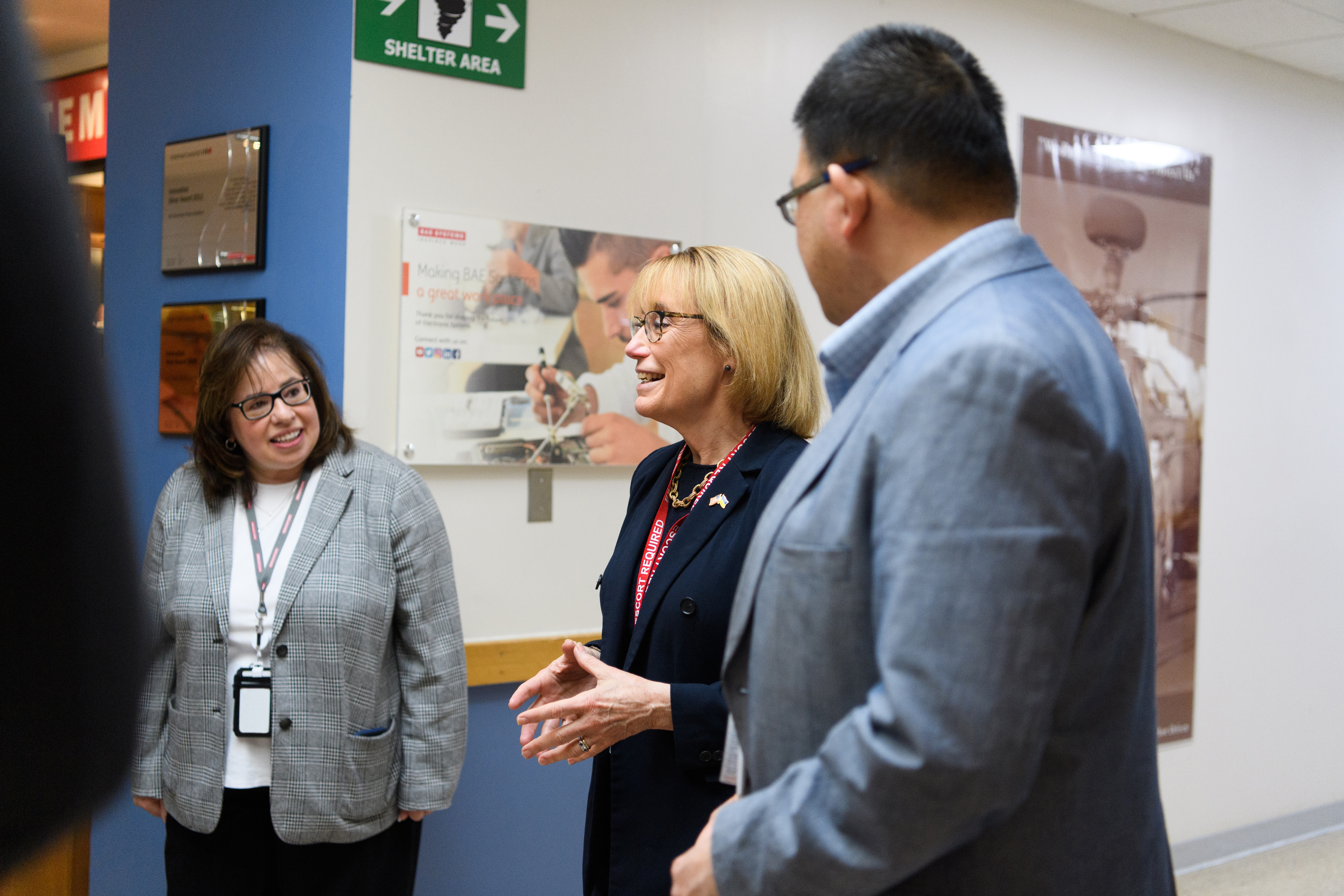 Senator Hassan at BAE Systems in Nashua.
NASHUA – U.S. Senator Maggie Hassan visited BAE Systems in Nashua to discuss her efforts to invest in American manufacturing, which will help strengthen domestic supply chains, ensure that the U.S. can outcompete countries like China, and protect America's national security. During the visit, Senator Hassan toured BAE's Microelectronics Center, which is a Department of Defense-trusted supplier of semiconductor electronics, and heard from BAE Systems' leadership about the supply chain challenges that they're facing. Learn more about BAE Systems here.
"BAE Systems is an innovation-based business that not only creates good jobs here in New Hampshire, but also produces innovative products and technology that are critical for our national defense," Senator Hassan said. "Like many businesses, supply chain challenges have impacted BAE Systems' ability to get critical components for their products, which are important to our national security. I am working across the aisle on comprehensive legislation that will help bring manufacturing back to America and ensure that we are not reliant on countries such as China for critical goods such as semiconductors that help keep us safe."
"BAE Systems would like to thank U.S. Senator Maggie Hassan for taking the time to tour our Microelectronics Center," said James Li, director of Microelectronics at BAE Systems. "As a leading provider of defense electronics, we look forward to working with Senator Hassan on critical supply chain issues and legislation before Congress that will help maintain our nation's industrial security."
Senator Hassan was one of the 22 original legislators who helped negotiate the bipartisan infrastructure package into law last year, securing investments for the country's highways and ports that will help ease supply chain bottlenecks and strengthen the transportation of goods. Senator Hassan is currently working with her colleagues on compressive, bipartisan legislation to make major investments in American manufacturing, bring jobs back to America, and outcompete China. As part of the final package, Senator Hassan is working to include legislation to provide support to American companies that produce critical goods, such as semiconductors, military technology, medical devices, and solar panels. 
###