September 26, 2017
Senator Hassan Calls for Return to Bipartisan Health Care Negotiations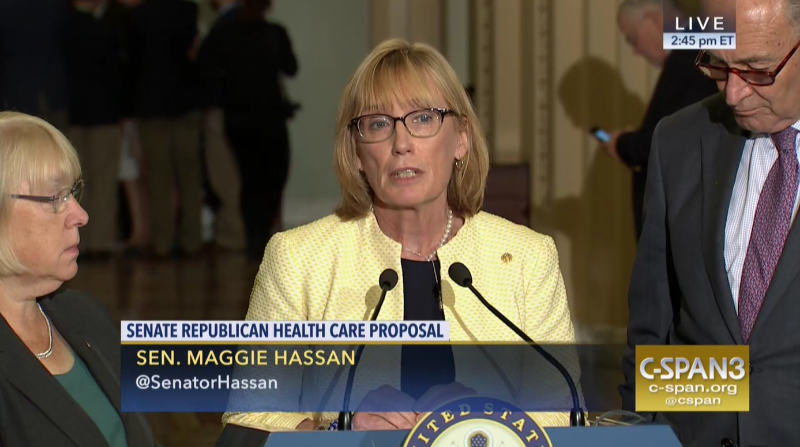 Click here for video of the press conference.
WASHINGTON – Senator Maggie Hassan today joined her Senate Democratic colleagues at a press conference following the defeat of the latest Trumpcare bill to underscore the importance of returning to bipartisan negotiations on lowering health care costs and stabilizing the individual insurance market.
Key quotes from Senator Hassan's comments:
"Our constituents are telling us about their personal experiences with health care. They are often really laying themselves bare before us so that we will understand the importance of health care and health coverage to them. We have seen people come to the Capitol this week and all summer who suffer with significant disabilities, and it is not easy for a lot of these people to get here, to be out in the sun, to wait in long lines, and frankly, they shouldn't have to. They shouldn't have to come to Capitol Hill and beg for health insurance coverage. Not in the United States of America."
"We know that there is more to do on health care. There isn't a Democrat here who doesn't know that there are improvements we need to make. I am committed to working with members of both parties on the HELP Committee and throughout the United States Senate to come together and find ways in the short term to stabilize our markets and lower costs. We have to address pharmaceutical costs. We have to address health care outcomes. But as long as there is this threat out there of another Trumpcare attempt, it's going to be harder for us to do that, and it's going to cause disruption in the very lives of the people we were sent here to represent."
As a member of the Senate Health, Education, Labor, and Pensions (HELP) Committee, Senator Hassan participated this month in bipartisan health care hearings focused on stabilizing the individual health insurance market and lowering costs.
###
---
---
Next Article
Previous Article