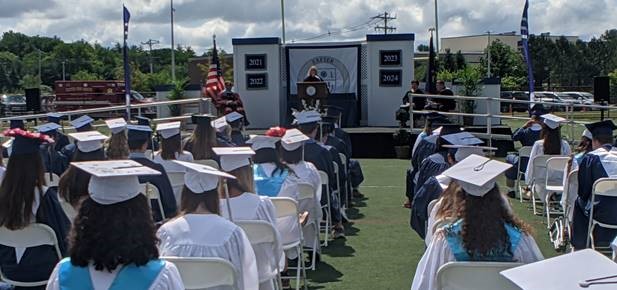 EXETER – U.S. Senator Maggie Hassan delivered remarks at Exeter High School's Commencement ceremony today, where she congratulated students on reaching this important milestone and commended them on their incredible resilience over the past year.  
"For more than a year, the pandemic upended lives, livelihoods, and schools," said Senator Hassan. "I know that each of you had to learn to quickly navigate new realities and prepare to take this major step in your lives, all amid a global crisis where the world was changing around you. But you rose to the occasion. When your school's doors closed last year, you worked hard to adapt."
Senator Hassan also asked students to reflect on the lessons that they have learned from this experience, especially on the importance of working together to solve problems.
"Being a citizen in a democracy means recognizing the value and the contributions of all citizens," said Senator Hassan. "That you take time to listen, learn, and move forward with ways to solve problems and help our entire society. The American mission is to bring out the best in each other – something you all did, beautifully, throughout the pandemic."
###