September 17, 2021
Senator Hassan Delivers Remarks at Smokey Bear Award Ceremony to Honor Capt. Doug Miner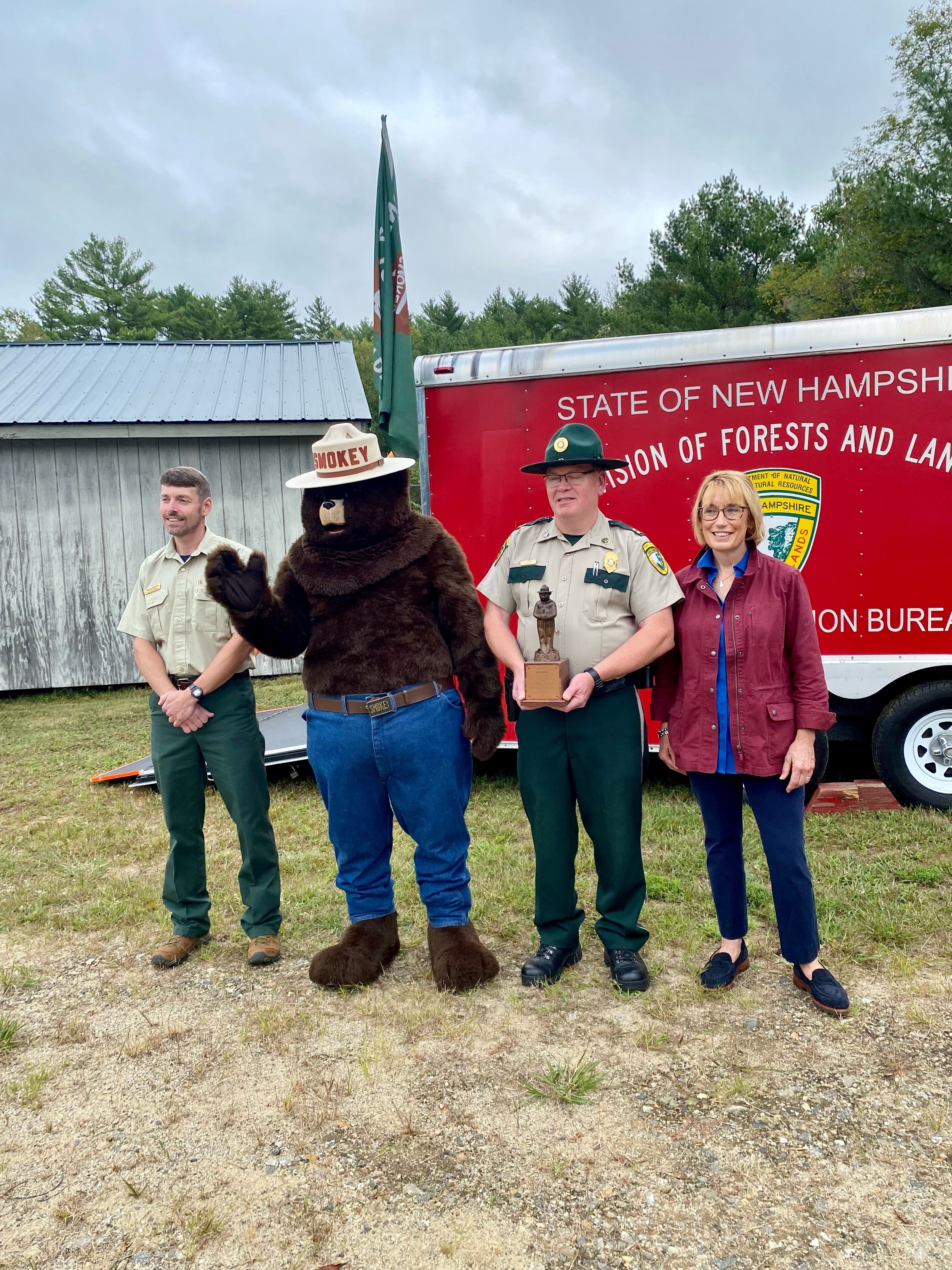 Senator Maggie Hassan Visits Bear Brook State Park to honor Captain Doug Miner.
ALLENSTOWN – U.S. Senator Maggie Hassan today recognized Captain Doug Miner of the New Hampshire Forest Protection Bureau, who was awarded the Smokey Bear Award for his tireless efforts in wildfire prevention, at a ceremony at the NH Fire Protection Bureau Regional Office in Bear Brook State Park. The Smokey Bear Award is the highest honor that one can receive for wildland fire prevention education, and Captain Miner was chosen in part because of his incredible efforts to coordinate the year-long celebration of Smokey Bear's 75th birthday.
"We know that wildfires pose a real threat to our forest, particularly as we grapple with the growing impact of climate change, and we need to do all that we can to help more people understand the need for wildfire prevention," Senator Hassan said. "That is why Captain Miner's work is so impressive, among other things, and why he is so deserving of this distinct honor."
The work done by Captain Miner and the Forest Protection Bureau is critical to protecting New Hampshire's forests, wildlands, and communities. Senator Hassan is working to protect and conserve the environment, and was one of the original 22 negotiators of the bipartisan infrastructure package that passed the Senate last month. The bill includes $3.3 billion for wildfire risk reduction efforts including hazardous fuels reduction, controlled burns, community wildfire defense grants, collaborative landscape forest restoration projects and funding for firefighting resources. The bill also includes $2 billion for the Interior Department and U.S. Forest Service to carry out ecological restoration projects on public and private lands in order to remove the fuel the feeds wildfires.
###
---
---
Next Article
Previous Article