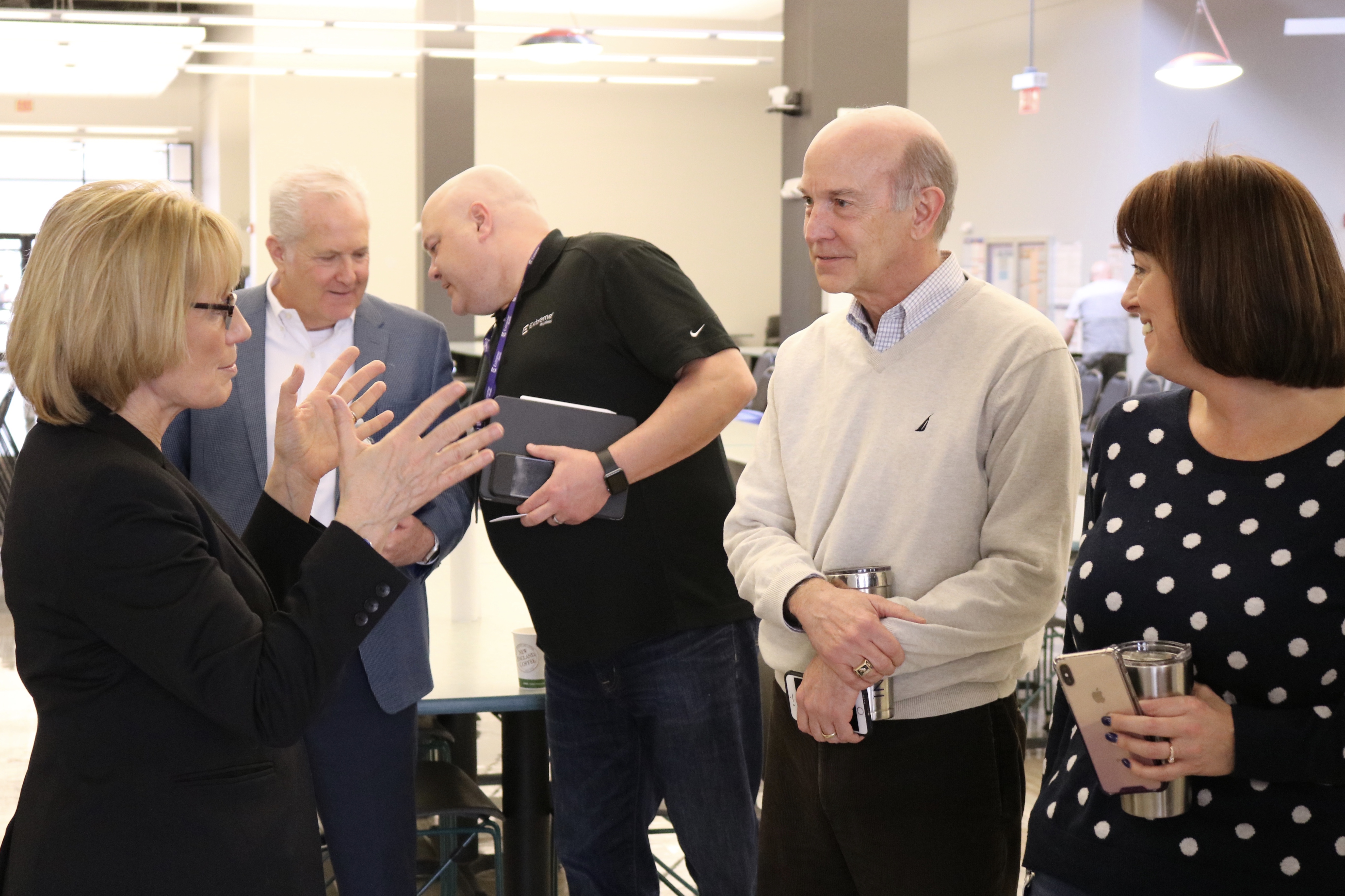 Senator Hassan speaks with employees of Extreme Networks in Salem.
SALEM – Senator Maggie Hassan visited Extreme Networks today, where she toured the facility, met with employees, and heard about the impact President Trump's tariffs on steel and aluminum are having on the company, including causing their costs to increase. Senator Hassan also discussed her efforts as a member of the Homeland Security and Governmental Affairs Committee to strengthen cybersecurity, including improving security for Internet of Things (IoT) devices.  
Extreme Networks provides innovative new age IT solutions for companies around the world. For more information, visit here.
"The President's misguided steel and aluminum tariffs are increasing costs for innovative businesses like Extreme Networks, and I'm committed to working across party lines to help relieve these burdens," Senator Hassan said. "Extreme Networks also does important work to help boost cybersecurity for their clients, including strengthening security for Internet of Things devices, and the federal government must do more to support these efforts."
To mitigate the impact on New Hampshire businesses of the President's tariffs on steel and aluminum, Senator Hassan recently introduced the bipartisan Bicameral Congressional Trade Authority Act with Senators Pat Toomey (R-PA), Mark Warner (D-VA), and Ben Sasse (R-NE). The legislation would relieve American consumers and businesses of the burdens caused by the Trump Administration's unilateral imposition of tariffs on imported steel and aluminum. Click here for more information on the legislation.
As part of her efforts to strengthen cybersecurity, the Senator has cosponsored bipartisan legislation to improve security standards for Internet of Things (IoT) devices purchased by the federal government. For more information on the bipartisan Internet of Things Cybersecurity Improvement Act, click here.
###