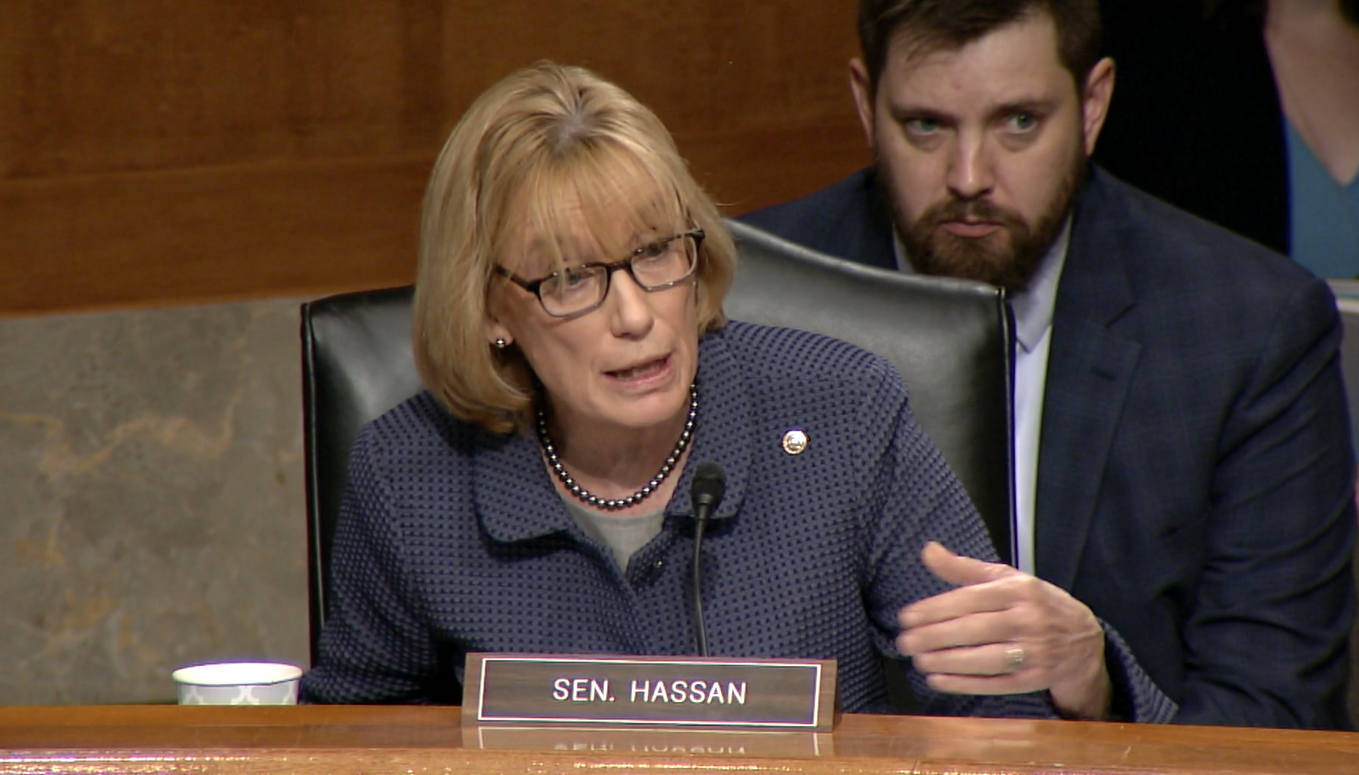 To watch Senator Hassan's questioning click here.
WASHINGTON – During a Homeland Security and Governmental Affairs Committee hearing, Senator Maggie Hassan today grilled U.S. Border Patrol's Chief of Law Enforcement Operations Director, Brian Hastings, on the inhumane conditions at migrant dentition centers that have been reported at the southern border. 
"Outside lawyers recently visited a Border Patrol facility in Clint, Texas where they reported widespread instances of children living in squalor, being denied the ability to shower for weeks at a time, caring for infants just a few years younger than themselves, and being locked in cages for the vast majority of the day," Senator Hassan said. "Similar reports of gross mismanagement and horrible conditions have come to light at the Border Patrol facilities in McAllen and El Paso, as well as a private facility in Homestead, Florida."
Senator Hassan pressed Mr. Hastings on whether Customs and Border Patrol (CBP) has an obligation to provide basic necessities, such as toothbrushes, soap, and food to the children. Mr. Hastings claimed that they have been and will continue to provide all those necessities to children at these facilities. 
Senator Hassan: "You do understand that that is in direct contradiction with the news reports that we have been reading from what lawyers who have been visiting these children and interviewing them are telling us?"
Mr. Hastings: "And I would ask that you understand that those are the plaintiff's attorneys who have a case against the government."
Senator Hassan: "…I doubt very strongly that any attorney would be fabricating this information."
Following this exchange, Senator Hassan questioned Mr. Hastings on what steps the CBP is taking to ensure that the mismanagement of child migrants is not occurring at other border patrol facilities. Mr. Hastings replied that these allegations have been reported to the Office of the Inspector General and the Office of Professional Responsibility within the CBP.
Senator Hassan replied, "I am pleased that they will be investigated, but my question is – what are you actually doing to make sure that, as you are dealing with an unprecedented number of migrant children, you are ensuring that there is enough soap and toothbrushes, that there is enough food, and enough time for them to be outside and out of very confined spaces – what I'm asking is, what are you operationally doing to change the circumstances?"  
In response, Mr. Hastings said that the CPB brought in shower facilities, increased their medical contract across the southwest border, and increased the operational funding so that they can spend more on consumer products such as diapers and food.
"If you walk into many of our locations on the Southwest border, including Clint, you will see an area – a storeroom – that frankly looks like Costco," Mr. Hastings said.
Senator Hassan concluded, "There is a huge disconnect between your testimony and between what we are getting as reports from the facilities – I hope very much that we can just focus on making sure that the children are clean, well-cared for, safe, and released as quickly as possible." 
###