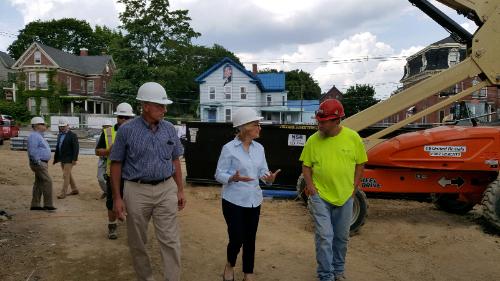 Senator Hassan visits Mas-Con construction site in Concord
CONCORD – Senator Maggie Hassan today visited a Mas-Con construction site at the new Merrimack County Court House, where she toured the site, discussed Mas-Con's partnership with the Concord Regional Technical Center, and discussed bipartisan efforts she's supporting in the Senate to strengthen and expand career and technical education programs in New Hampshire.
Senator Hassan was joined by leaders from Mas-Con; Steve Rothenberg, Director of Concord Regional Technical Center and President of New Hampshire Career and Technical Administrators (NHCTA); and others. Mas-Con Corporation is a commercial masonry and concrete foundations subcontractor based out of Laconia. For more information, visit here.
"Career and technical education programs are critical to New Hampshire's workforce and economy, helping students develop the skills necessary to succeed at companies like Mas-Con, and when possible earn a high-quality postsecondary credential," Senator Hassan said. "I am working to strengthen CTE programs in New Hampshire in order to support innovative businesses like Mas-Con that are driving our economy forward while preparing hard-working Granite Staters for good jobs in the 21st century innovation economy."
Senator Hassan highlighted the bipartisan Strengthening Career and Technical Education for the 21st Century Act, which she recently helped advance out of the Senate Health, Education, Labor, and Pensions Committee. This bill will help strengthen the workforce pipeline and better prepare New Hampshire's students for jobs in the 21st century innovation economy by requiring that CTE programs collaborate with local industry and workforce development organizations to better meet the needs of innovative businesses. Senator Hassan fought for important New Hampshire priorities to be included in the bill, including emphasizing the importance of ensuring that students who face additional barriers to completion have access to direct support services through career guidance and academic counseling and that more CTE students have the opportunity to obtain a postsecondary recognized credential.
"As one of New Hampshire's largest commercial masonry and concrete foundations subcontractor, we rely on a skilled workforce to succeed," said Lydia Bartlett, Project Manage, Estimator & Safety Director at Mas-Con. "Career and technical education programs are incredibly beneficial not only to us, but to the future of the entire construction industry. We would like to thank Senator Hassan for her leadership and commitment to supporting local businesses like ours by working to expand and strengthen CTE programs throughout New Hampshire."
"The partnership between Mas-Con and the Concord Regional Technical Center demonstrates just how important career and technical education programs are to New Hampshire's businesses and people," said Steve Rothenberg, Director of Concord Regional Technical Center and President of New Hampshire Career and Technical Administrators (NHCTA). "The Strengthening Career and Technical Education Act is a vital piece of legislation to support and expand successful partnerships like this and we are pleased to have Senator Hassan in the Senate fighting for workforce development and other important priorities for our state."
###