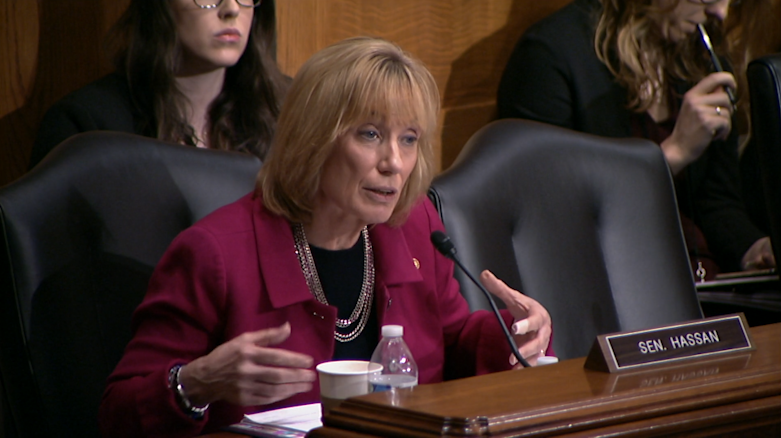 Click here for footage of the hearing.
WASHINGTON – Senator Maggie Hassan focused on the need to address the skyrocketing costs of prescription drugs in a Health, Education, Labor, and Pensions (HELP) Committee hearing today.
Senator Hassan highlighted the fact that the United States is one of only two developed countries to allow prescription drug corporations to advertise their products directly to consumers on television and other media, and that the government gives these companies a tax break for these ads.
Asked by Senator Hassan why it would be appropriate to end tax breaks for pharmaceutical advertising, Norm Augustine, Chair of Committee on Ensuring Patient Access to Affordable Drug Therapies at the National Academies of Sciences, Engineering and Medicine, agreed that "there are several negative aspects of this form of advertising," including the cost of advertising that "shows up in the end price of the product of the advertiser."
A National Academies of Sciences, Engineering and Medicine report suggests eliminating the tax breaks drug makers get from the government for these ads, and Senator Hassan cosponsored legislation that includes a provision to end these tax breaks.
Senator Hassan also called attention to anti-competitive behavior by the drug maker Allergan. Allergan recently paid a Native American tribe to take ownership of the patents for its blockbuster dry-eye drug, Restasis, and then Allergan licenses back the patents, continuing to sell the drug as usual. The move was meant to shield the patents from review and protect Allergan's market monopoly at the expense of patients. In response to Senator Hassan's concerns about what this sham deal means for patients, David Mitchell, President and Founder of Patients for Affordable Drugs, said "the company is treating it like it's a game, and 'how can we figure out a way around the laws of the United States,'" adding, "Allergan's behavior is offensive, and it hurts people. It's not a game."
###