June 15, 2017
Senator Hassan Joins Colleagues to Highlight Trumpcare's Devastating Impact on Efforts to Combat Substance Misuse Crisis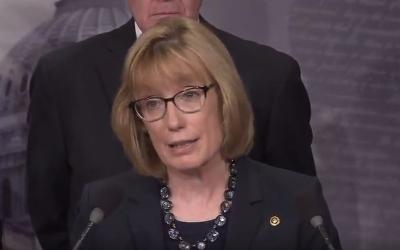 Click here for video of Senator Hassan's remarks.
WASHINGTON – Today, Senator Maggie Hassan (D-NH) joined Senators Ron Wyden (D-OR), Ed Markey (D-MA), and Richard Blumenthal (D-CT), to highlight the devastating impact that Trumpcare, which includes massive cuts to Medicaid, would have on efforts to combat substance misuse in New Hampshire and across America.
Senator Hassan also again urged Senate Republicans to hold public hearings on the Trumpcare bill that they have been working on behind closed doors.
"Trumpcare would hurt hard-working people across New Hampshire and America, and in particular, it would devastate our efforts to combat the heroin, fentanyl, and opioid crisis that is ravaging our communities and taking a major toll on our economy," Senator Hassan said. "In the midst of this crisis, we need to be strengthening prevention, treatment, and recovery efforts, not making cuts to critical programs such as Medicaid that help people in the throes of addiction. There is now talk of Republicans adding some opioid grant funding to Trumpcare to try to distract from the devastating impact that slashing Medicaid would have on efforts to combat this crisis, but this funding would not come close to making up for the damage that massive cuts to Medicaid would have. More funding to combat this crisis is something that we need to do in addition to Medicaid funding – not at the expense of it."
"I will continue working with my colleagues to defeat this dangerous bill that would pull us backward, and I urge Granite Staters and Americans to continue making their voices and their stories heard about how damaging Trumpcare would be," added Senator Hassan.
Trumpcare would end Medicaid expansion, which experts have said is the single most important tool available to combat the heroin, fentanyl, and opioid. Additionally, Trumpcare would turn Medicaid into a per capita cap system, which is code for massive cuts that would force states to choose between slashing benefits, reducing the number of people who can get care, or both. Trumpcare also undermines the requirement that insurance companies must cover mental health and substance use disorder services. The Center on Budget and Policy Priorities noted that while Senate Republicans may reportedly try to add some opioid funding to Trumpcare to distract from the massive cuts to Medicaid, "no one should fall for it — a one-time investment or even a multi-year commitment of funds wouldn't come close to offsetting the enormous damage that the underlying House bill would do to millions of people who would lose access to treatment."
###
---
---
Next Article
Previous Article