March 12, 2018
Senator Hassan Leads Roundtable Discussion on Importance of Passing Bipartisan CARA 2.0 Act to Support Public Safety Officials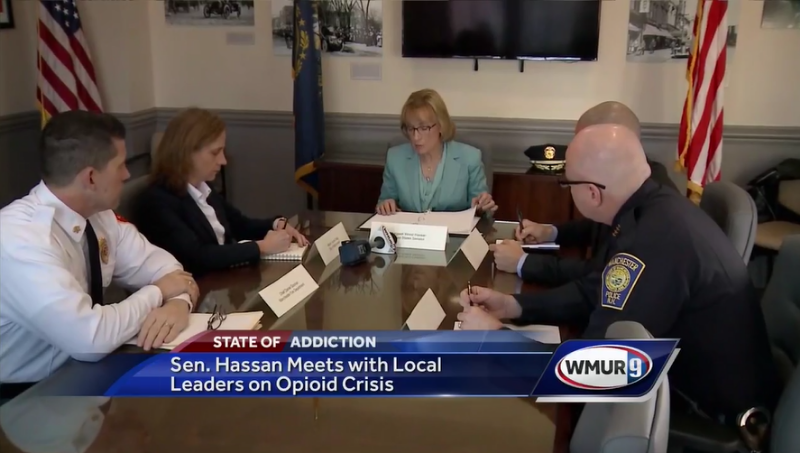 Click here for a report from WMUR on the roundtable.
MANCHESTER – Senator Maggie Hassan today led a roundtable discussion on the importance of passing the bipartisan Comprehensive Addiction and Recovery Act (CARA) 2.0, specifically highlighting provisions in the bill that would support first responders and public safety officials. Senator Hassan was joined by Manchester Mayor Joyce Craig, DEA Assistant Special Agent in Charge Jon C. DeLena, Manchester Police Chief Nick Willard, and Manchester Fire Chief Dan Goonan.
"The fentanyl, heroin, and opioid crisis is taking a particular toll on our law enforcement and public safety officials, and supporting their efforts is one of my top priorities," Senator Hassan said. "We need a federal response that matches in scope the national public health emergency we are facing, which is why I joined colleagues from both parties to introduce the CARA 2.0 Act, a bill that would help save lives and strengthen prevention, treatment, recovery, and law enforcement efforts. This bill is the type of bipartisan approach we need to be taking to strengthen our efforts, and I am going to continue working on a comprehensive approach that supports law enforcement and those on the front lines of this crisis."
Following the Senator's work to secure $6 billion in additional opioid funding as part of the bipartisan budget agreement, this bill makes important policy changes to help step up efforts to combat the crisis and identifies key areas to prioritize as federal funding goes out to communities in need.
"From a local perspective, we are working so hard. Our first responders are doing amazing work, I can't say enough in terms of what the fire department is doing with Safe Stations, what our police officers are doing proactively addressing people that are dealing drugs. But we do, as you said, need so much more help. So we really appreciate you fighting for us in Washington because we can't do it alone," said Manchester Mayor Joyce Craig.
"The depth of this problem is huge and no one agency can do it themselves. So what I like about this legislation is that it's an all-hands-on-deck approach. Here in Manchester, we've seen over the last three years since we've kept statistics with this latest crisis, we've seen over 2,500 responses from overdoses, and over 250 people dead. It's massive, it's kind of mind-boggling. What I like about this, is that there's so many pieces to the legislation. I'm part of the drug court team, and medication-assisted treatment is absolutely vital. What we're seeing there, it's obvious that people who are on medication-assisted treatment do so much better. We're seeing with that with our graduation rates, the people who are graduating are in therapy and medication-assisted treatment. It's a chronic illness and you've got to treat it like that," said Manchester Fire Chief Dan Goonan.
"In reviewing the legislation, it's just like Chief Goonan said, the all-hands-on-deck approach is phenomenal. What we're seeing is the same thing the fire department is seeing. We went over to 700 overdose calls a year, and that's a lot. We weren't seeing that ten years ago. I like the idea of money going towards the peripheral victims of the crisis, the families, the children. We have a program called the ACERT program, the Adverse Childhood Experience Response Team. So if a child experiences an overdose in the home, and actually witnesses, we get to childhood services in real time. And I think having the approach that you're taking with this particular legislation is going to be very useful to us," said Manchester Police Chief Nick Willard.
###
---
---
Next Article
Previous Article