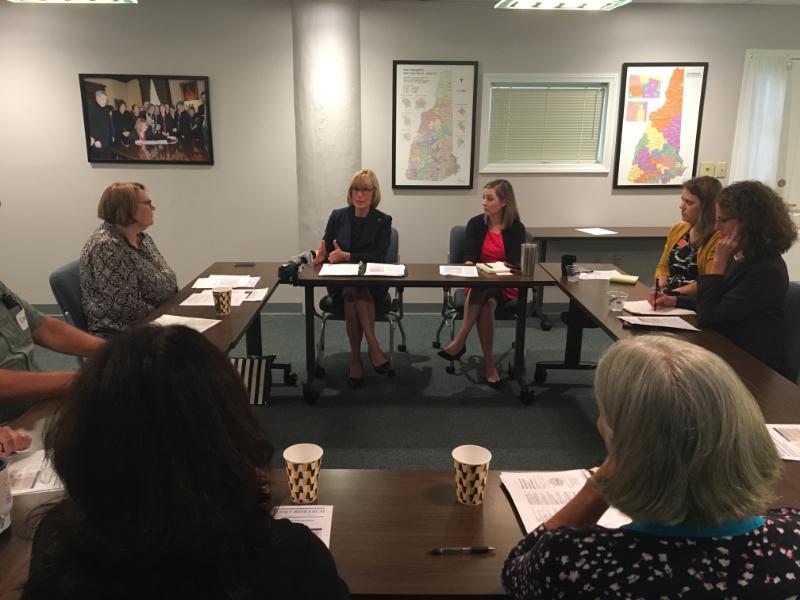 Senator Hassan meets with grandparents and families impacted by the opioid epidemic
CONCORD- Senator Maggie Hassan visited New Futures today to hear from grandparents who have taken on parenting roles for their grandchildren as a result of the opioid epidemic. Senator Hassan also discussed her efforts to ensure that these grandparents have the support they need, including cosponsoring the bipartisan Supporting Grandparents Raising Grandchildren Act, which President Trump recently signed into law. 
Senator Hassan was also joined by New Futures President Michele Merritt and other advocates.  
"As we all know, one of the consequences of the fentanyl, heroin, and opioid epidemic is that many more grandparents have had to take on the critical role of primary caregiver to their grandchildren," Senator Hassan said. "I am incredibly grateful to the grandfamilies who joined us today for sharing their experiences so that we can find ways to better support the health and well-being of both grandparents and grandchildren who are dealing with the devastating effects of the opioid crisis."
Rosemary Nugent, who became her grandson's guardian after her son's addiction to drugs and alcohol led to his arrest, told the Senator, "Right now, my fear anyway, is if something were to happen to us… I'm going to cry when I say this next part. [My grandson] said to me one day, 'Grandma, I don't want you to die. I want to stay in your apartment.' But he's happy, he's doing well in school." 
Diane Yeo, another grandparent whose son and daughter-in-law battled with addiction shared, "I became pretty politically proactive to change this system because it's not working, and at that time I was faced with my career or the grandchildren and I chose my grandchildren. So at times I would work three or four jobs: flower shops, sewing on the side, etc., so I could be there for them, especially for my granddaughter who had some special needs at the time… I'm very resilient, and I'm fighting and struggling to get my son healthy and my daughter-in-law, and they both are right now, they're medically supervised. The children are back in their custody, they're all doing very well. I suffer from PTSD though because I'm constantly afraid that we're going to have this situation again, or worse, that they're going to start using again, somebody is going to OD."
Senator Hassan cosponsored the bipartisan Supporting Grandparents Raising Grandchildren Act, which the President has now signed into law, to help ensure that grandparents raising grandchildren are better able to meet the needs of the children in their care. This evening, the U.S. Senate is also scheduled to vote on a major bipartisan bill to combat the opioid crisis that includes key measures authored by Senator Hassan.
###