September 06, 2017
Senator Hassan Participates in Bipartisan HELP Committee Health Care Hearings
Senator Highlights Importance of Reinsurance for Lowering Premiums and Stabilizing Individual Market
Senator Hassan Also Discusses Harmful Impact of Cost-Sharing Reduction Payment Uncertainty on Efforts to Address Opioid Crisis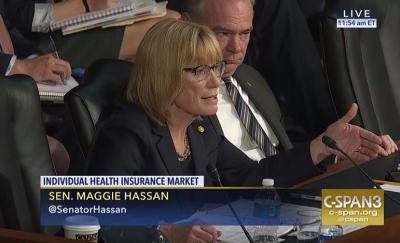 Click here for video of Senator Hassan's remarks.
WASHINGTON – Today, as a member of the Senate Health, Education, Labor, and Pensions (HELP) Committee, Senator Maggie Hassan participated in a bipartisan health care hearing focused on lowering costs and stabilizing the individual health insurance market.
Senator Hassan opened her remarks by thanking the Chairman and Ranking Member for holding the bipartisan hearing: "People around New Hampshire, when I said we were going to have bipartisan hearings and listen to experts who actually deal with the nitty gritty of how health insurance and health care works, there was a real sigh of relief, so I'm very grateful for the hearings." Senator Hassan added that "it is essential that we really drill down to how things actually work, as opposed to just talking about big concepts."
Senator Hassan highlighted the importance of reinsurance for lowering premiums and stabilizing the individual market, and Pennsylvania Acting Secretary of Human Services Theresa Miller confirmed that reinsurance had helped the state moderate premium costs, and said that premiums rose because the state's reinsurance program expired. Over the course of the hearing, Alaska Division of Insurance Director Lori K. Wing-Heier and Tennessee Department of Commerce and Insurance Commissioner Julie Mix McPeak also highlighted the importance of federal funding for reinsurance programs.
Senator Hassan also highlighted the importance of certainty around cost sharing reductions payments to stabilize markets, ensuring quality coverage is available to individuals struggling with substance use disorder, a point which was echoed by Secretary Miller.
Senator Hassan is an original cosponsor of the Individual Health Insurance Marketplace Improvement Act to help stabilize the individual health care marketplace and lower premiums. The legislation would provide certainty in the marketplace by creating a permanent reinsurance program for the individual health insurance market, similar to the successful programs used to lower premiums and spur competition in the Medicare Part D program. Senator Hassan is also an original cosponsor of the Marketplace Certainty Act, which would help lower health care premiums for middle class Americans and stabilize the individual market.
###
---
---
Next Article
Previous Article