April 03, 2018
Senator Hassan Participates in National Rx Drug Abuse and Heroin Summit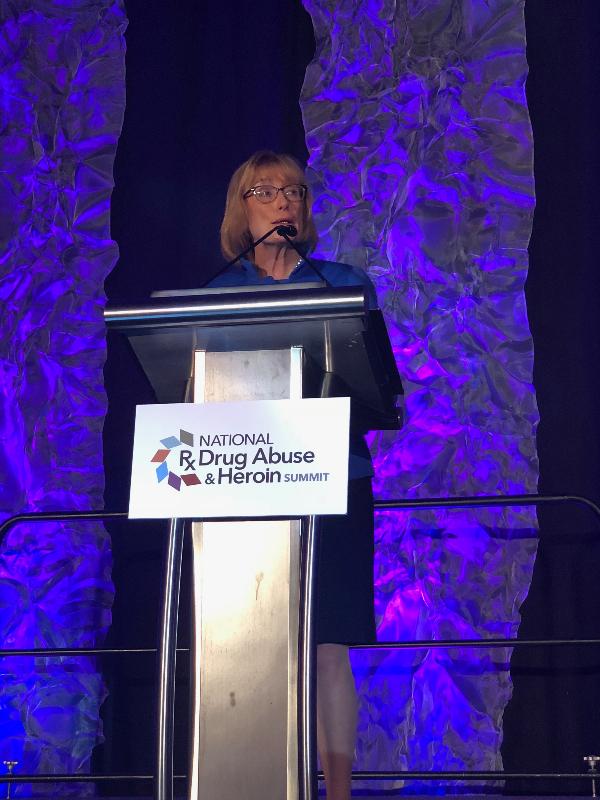 Senator Hassan addresses the Rx Drug Abuse and Heroin Summit.
ATLANTA, GA – Senator Maggie Hassan today participated in the National Rx Drug Abuse and Heroin Summit, where she spoke during the Congressional Leader Plenary Session about the critical importance of working together at all levels to implement a comprehensive approach that strengthens prevention, treatment, recovery, and law enforcement efforts to combat the opioid crisis and help save lives. The summit was created under the leadership of Congressman Hal Rogers (R-KY).
The Senator also spoke with leaders from the National Institute on Drug Abuse, Department of Veterans Affairs, Centers for Disease Control and Prevention, National Institutes of Health, Office of National Drug Control Policy, and Department of State's Bureau of International Narcotics and Law Enforcement Affairs.
"Today's conference represents exactly the type of comprehensive approach we need to take to address this devastating fentanyl, heroin, and opioid crisis," Senator Hassan said. "We all recognize that in order to turn the tide of this epidemic, we need to take a truly all-hands-on-deck approach."
The Senator discussed the fragmentation of the country's health care system and the need to combat the crisis by integrating all aspects of medical care and social services.
"We cannot just invest in a model that treats this crisis as a one-time issue," Senator Hassan continued. "We need policies that are based in the reality that some of our people are going to need treatment and recovery services throughout their lives in order to stay healthy."
Senator Hassan also commended Granite Staters and Americans who have been brave in sharing their stories of addiction and the important role they have played in breaking down the stigma of addiction.
"I am profoundly grateful to the countless people who continue to share their experiences, push for action, and work to break down the stigma of addiction," the Senator said. "Stigma has allowed this disorder to go untreated for years, and is part of the reason we have gotten to the point we are at today."
"Addressing this challenge is testing our commitment as a country, to our Founders' vision of inclusive strength and growth – our commitment to every individual," Senator Hassan concluded. "We need to stay vigilant and impatient to bolster our response for each and every person suffering from this disease, and for their families and loved ones."
The National Rx Drug Abuse and Heroin Summit is an annual gathering of key stakeholders to discuss effective solutions in prevention and treatment as the country continues to grapple with the devastating fentanyl, heroin, and opioid epidemic. For more information, click here.
###
---
---
Next Article
Previous Article