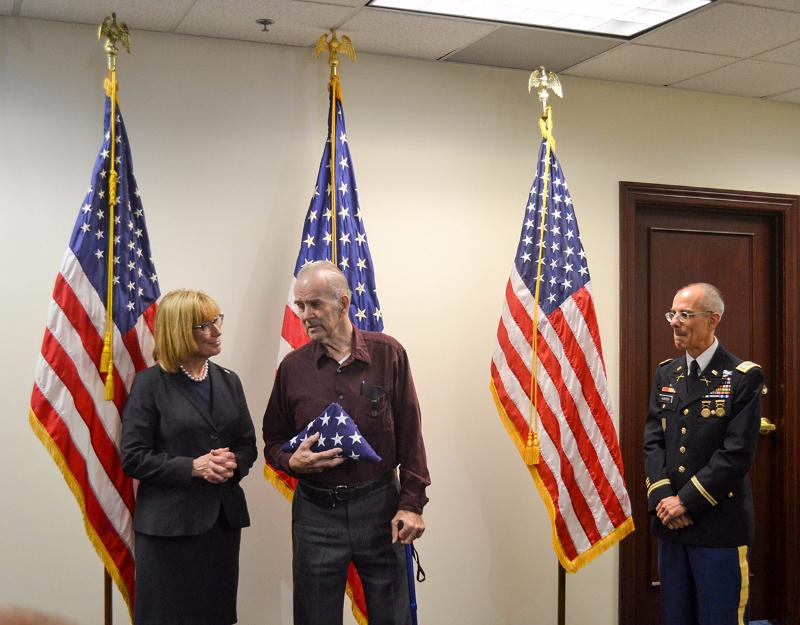 Left to right: Senator Maggie Hassan, CPL Sylvio J. Chouinard and Lt. Col. Roy Hunter of the New Hampshire National Guard
MANCHESTER – Today, Senator Maggie Hassan presented the Purple Heart and several other service medals to CPL Sylvio J. Chouinard of Manchester for his service in the Korean War.
After being escorted to the medals presentation by the Patriot Riders, the Manchester Police Department, and the Manchester Fire Department, CPL Sylvio Chouinard was presented with the Purple Heart, the National Defense Service Medal, the Korean Service Medal with two bronze service stars, the Combat Infantryman Badge 1st Award, and the United Nations Service Medal.
"Our veterans have demonstrated a selfless commitment to keeping our nation safe, secure, and free, and we owe it to them – and their families – to honor their service," Senator Hassan said. "I am honored to present CPL Sylvio Chouinard with the medals that he earned during the Korean War, and extend my deepest gratitude for his service. We can never fully repay the sacrifices our brave veterans like CPL Sylvio Chouinard have made, but today's ceremony is just one example of the respect and admiration that we all have for those who have served to protect our freedom."
CPL Sylvio Chouinard served in the U.S. Army as a member of the 15th Regiment, 3rd division and was injured during a night mission serving in the Korean War.
Senator Hassan is dedicated to ensuring that New Hampshire and America's veterans and their families have the support and services they need and have earned. Her efforts include helping introduce the bipartisan Veterans Appeals Improvement and Modernization Act to help reduce wait times and improve the process for veterans seeking benefits from the Department of Veteran Affairs, and cosponsoring a bipartisan measure that would improve veterans' education benefits and enhance the post-9/11 G.I. Bill – and President Trump has signed both measures into law. The Senator is also continuing to work to hold the VA accountable in order to prevent future failures of care, and fighting for a full-service VA hospital in New Hampshire.
###