October 31, 2017
Senator Hassan Presses FEMA Administrator on Inadequate Puerto Rico Response During Senate Hearing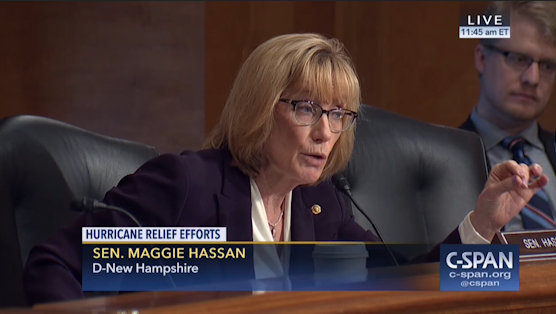 Click here for video of the hearing.
WASHINGTON – Senator Maggie Hassan today pressed Federal Emergency Management Agency (FEMA) Administrator Brock Long about the federal government's inadequate response and relief efforts for Puerto Rico during a Senate Homeland Security and Governmental Affairs Committee hearing.
Senator Hassan questioned Administrator Long about why there were delays in contributing robust military assets to the relief efforts following Hurricanes Irma and Maria.
Senator Hassan noted that during a briefing for senators on September 28, Administrator Long said that the airports and seaports were all heavily damaged. She asked today when FEMA and the Department of Defense first determined that the damage would hinder the delivery of relief supplies. Administrator Long said, "Almost immediately, and that was the logistical complexity of being able to put forward the humanitarian mission." The Senator pressed further on why it then took FEMA and DOD eleven days to get critical systems, including aviation command and control assets, on the ground. Neither witness directly answered her question.
Senator Hassan also asked Administrator Long what steps FEMA and DOD are taking to restore power to the U.S. Virgin Islands and what FEMA's estimate is for when power will be restored. Administrator Long answered, "Senator, excellent point. You know, the Virgin Islands were hit equally as hard as Puerto Rico and the bottom line is they are basically in the same approach. But there is two different approaches being taken to restore the power as I understand it. So where we proactively push forward the Army Corps of Engineers in Puerto Rico, the power authority that represents the Virgin Islands is in control and conducting their own contracts and leading their power restoration. But if the last number I saw was that power should be restored by December timeframe as well. But here again, that's just an estimate."
###
---
---
Next Article
Previous Article