March 15, 2018
Senator Hassan Presses Trump Cabinet Secretaries on Important Issues Facing Granite Staters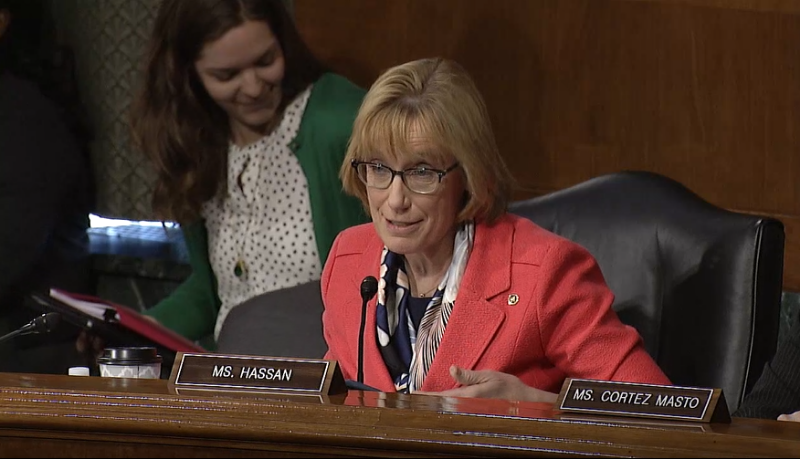 Click here for footage of the Senator's questions.
WASHINGTON – Senator Maggie Hassan participated in a Senate Committee on Commerce, Science, and Transportation hearing today, where she pressed Trump Administration cabinet secretaries on the importance of protecting consumers, investing in water infrastructure, and supporting workforce training initiatives.
The Secretaries of Transportation, Commerce, Energy, Labor, and Agriculture all participated in the hearing focused on infrastructure in America.
Senator Hassan raised concerns about a list of anti-consumer protection requests the Department of Transportation is reviewing from the airline industry, urging Secretary Chao to commit "to working with Congress before any consumer protections are rolled back in the airline industry" to which Secretary Chao responded, "Yes." This exchange followed Senator Hassan's recent letter urging DOT to prioritize the rights of consumers before rolling back critical protections in the commercial aviation sector.
Senator Hassan discussed the need for investments to water infrastructure across the country in her questioning of Agriculture Secretary Sonny Purdue. In response to questioning from Senator Hassan on how the Department of Agriculture is specifically helping rural areas in New Hampshire to repair aging water infrastructure, Agriculture Secretary Sonny Purdue responded, "As a former Governor and Senator I think you understand the impact that rural development can have in these communities. Working with the smaller communities particularly over water treatment, water availability, and water plans and we look forward to continuing to do that as we go forward. Obviously funding is critical in those areas and we want to be even more effective in that area."
Senator Hassan also emphasized the importance of investing in workforce training initiatives in order to meet the needs of a large infrastructure plan. The Senator highlighted the Gateway to Careers Act she recently introduced to strengthen the nation's workforce and help innovative businesses succeed by supporting career pathways strategies, which combine work, education, and support services to help individuals earn industry-recognized credentials. During the hearing, Secretary of Labor Alexander Acosta committed to Senator Hassan that he would review the Gateway to Careers Act, as well several bipartisan bills Senator Hassan has supported to strengthen workforce training, including the JOBS Act and the CTE Excellence Act.
###
---
---
Next Article
Previous Article