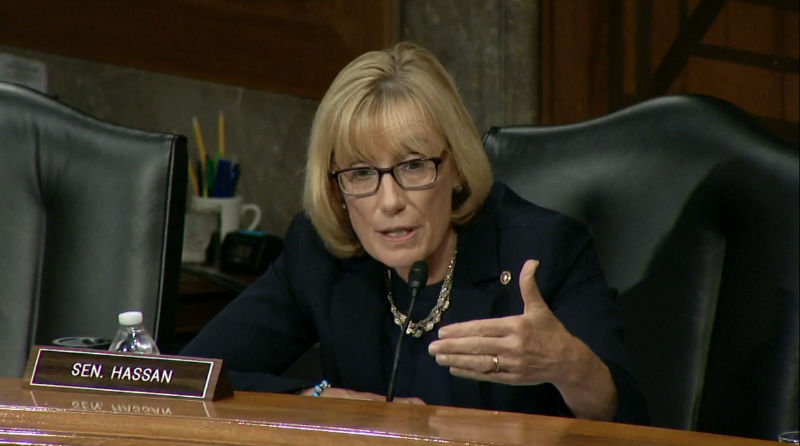 To watch the Senator's remarks click here. 
WASHINGTON – Senator Maggie Hassan yesterday questioned Seema Verma, Administrator of the Centers for Medicare and Medicaid Services (CMS) at the Department of Health and Human Services, about how to prevent big pharmaceutical companies from misclassifying their drugs as 'generic' so that the companies can pay out less in the drug discounts mandated under the Medicaid rebate program. Administrator Verma agreed that this systemic problem needs to be addressed and that additional Congressional authority to impose civil monetary penalties on drugmakers who misclassify their products in the Medicaid rebate program would be beneficial.
"Manufacturers are supposed to give larger discounts for brand drugs, which are typically more expensive than generic drugs," Senator Hassan said. "But, true to form, some drugmakers may have misclassified their drugs in order to shirk their obligation to provide that larger discount – leading to more than $1.3 billion in lost discounts from drug manufacturers from 2012 to 2016. People might remember this issue from when Mylan, the maker of EpiPen, misclassified the EpiPen as a generic drug. So Administrator Verma, how is CMS tracking the classification of drugs in the Medicaid rebate program to see if there are any misclassifications? 
Administrator Verma responded, "In terms of the misclassifications, I agree with you this has been a significant issue. […] The problem that we have, however, is that we don't have any enforcement authority. So we can put out guidance, but if they are not classifying appropriately then we're limited in the amount of action that we can take."
Senator Hassan followed up by asking Administrator Verma whether she would support additional authority from Congress so that CMS can impose civil monetary penalties on drugmakers who knowingly misclassify their drugs in the Medicaid rebate program.
Administrator Verma replied, "Yes we would." 
Senator Hassan has a record of taking on big pharmaceutical companies and fighting to lower drug prices for consumers. Last year, she joined her colleagues in introducing the Improving Access to Affordable Prescription Drugs Act, which would help ensure that drug companies put patients before profits and bring much-needed relief to families and seniors. The Senator also pushed back on the drug giant Allergan in response to their shady practices to stifle competition. 
###