June 02, 2017
Senator Hassan Reaffirms Commitment to Enhancing Public Safety in the North Country at U.S. Border Patrol Station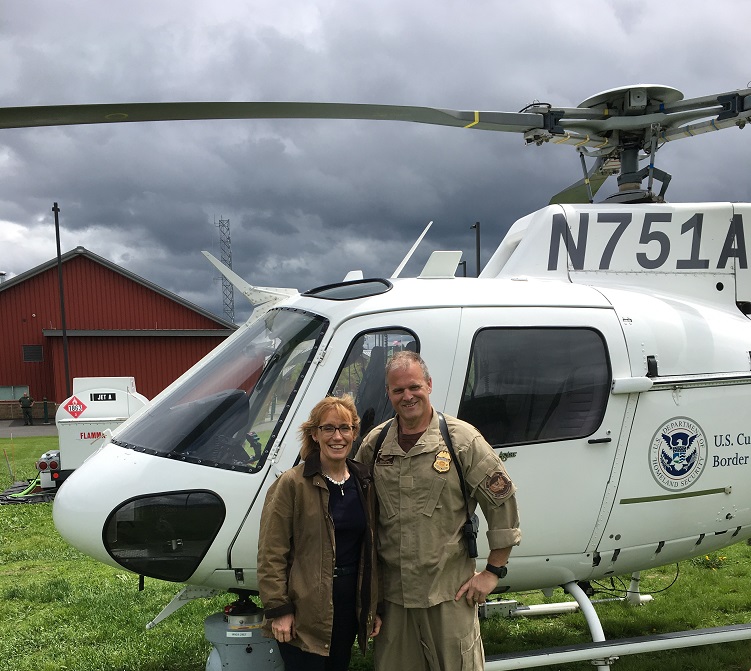 Senator Hassan observed the U.S./Canada border from a U.S. Border Patrol helicopter.
CANAAN, VT – Today, Senator Maggie Hassan visited the U.S. Border Patrol Station, where she received a briefing on Operation Stonegarden, met with law enforcement officers, and reiterated her commitment to ensuring officers on the Northern Border have the resources they need to keep Granite Staters and Americans safe.
Operation Stonegarden supports enhanced cooperation and coordination among Customs and Border Protection, United States Border Patrol, and local, tribal, territorial, state, and federal law enforcement agencies. The Senator also observed the U.S./Canada border from a U.S. Border Patrol helicopter.
"Our brave and dedicated law enforcement officers in the North Country face unique challenges to keep the North Country and our entire state safe," Senator Hassan said. "While there has been a lot of attention in Washington on the Southern Border, our Northern Border is also critical to our national security, and I will continue fighting to ensure that our Northern Border law enforcement officers have the resources they need to protect their fellow citizens and keep New Hampshire – and America – safe, secure, and free."
During her time as Governor of New Hampshire, Senator Hassan signed legislation to enact protections for federal border patrol agents who support local and state law enforcement in the North Country. As a member of the Senate Homeland Security and Governmental Affairs Committee, Senator Hassan is focused on ensuring that all public safety officials have the support they need to do their jobs efficiently, particularly as New Hampshire is in the midst of the heroin, fentanyl, and opioid crisis.
###
---
---
Next Article
Previous Article