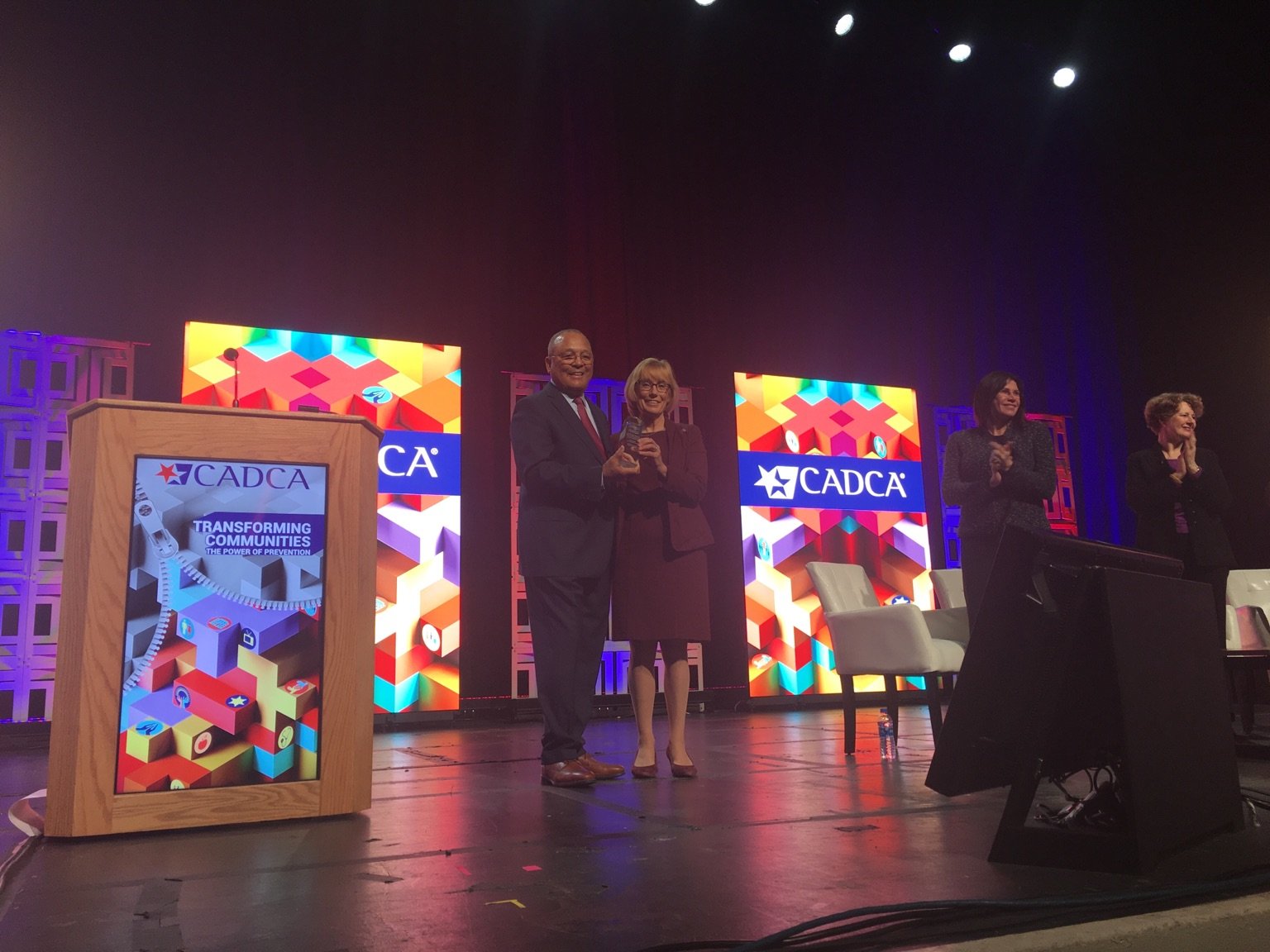 Senator Hassan receives the Congressional Leadership Award from the Community Anti-Drug Coalitions of America.
WASHINGTON – Senator Maggie Hassan (D-NH) today received the Congressional Leadership Award from the Community Anti-Drug Coalitions of America (CADCA) for her bipartisan work to combat the devastating substance misuse crisis. CADCA works to strengthen the capacity of community coalitions to create and maintain safe, healthy, and drug-free communities globally. To learn more about CADCA click here.
"I am deeply honored to receive the Community Anti-Drug Coalitions of America's Congressional Leadership Award," Senator Hassan said. "CADCA recognizes that the magnitude of this crisis demands that we collaborate across traditional boundaries and take a truly all-hands-on-deck approach to combat this crisis from all angles. I will keep working every single day to help give CADCA – and all the heroes on the front lines of the substance misuse crisis – the tools and support that they need." 
New Hampshire currently has 12 drug-free community coalitions that are funded through CADCA's Drug Free Communities program, including the Franklin Mayor's Drug Task Force, SALT & Light, the Raymond Coalition for Youth, and the Nashua Prevention Coalition, all of which had representatives at the CADCA ceremony today.
Senator Hassan has led bipartisan efforts in Congress to combat the heroin, fentanyl, and opioid crisis. Working with Senator Jeanne Shaheen (D-NH), Senator Hassan successfully secured more than $45 million in additional federal funding over two years for New Hampshire to strengthen the response to the epidemic. Last October, Senator Hassan attended the White House signing ceremony for bipartisan legislation she helped develop that included key priorities that those on the front lines have been calling for. Measures in the legislation that the Senator authored or cosponsored include provisions to expand existing centers to serve as Comprehensive Opioid Recovery Centers, boost access to medication-assisted treatment, help stop the shipment of fentanyl from places like China through the U.S. Postal Service, and crack down on bad actors in the pharmaceutical industry. Earlier last year, the Senator was also on hand as President Trump signed the INTERDICT Act, which she cosponsored to help ensure that U.S. Customs and Border Protection (CBP) has the tools to help detect and intercept fentanyl and other illegal synthetic opioids.  
###