WASHINGTON – Senator Maggie Hassan this week recognized Elizabeth Guillotte of Hill, New Hampshire?, and Richard "Ricky" Mazur of Franklin, New Hampshire, as the May 2019 Granite Staters of the Month for their dedication to helping their classmates who are unable to afford basic necessities like clothing and toiletries. 
When the Franklin High School FIRST robotics team sat down to discuss how they could give back to their community, Elizabeth and Ricky had an idea: they could revamp the makeshift thrift shop at their school. Now, students at Franklin High School who are in need of anything from clothing, to toothbrushes, to cereal, can get all these items anonymously – and for free – at the new and improved "Karma Korner." Elizabeth and Ricky were inspired to act after they noticed that some of their classmates were walking the halls in the same clothing that they wore the day before and learned that some classmates were eating their only meal of the day in the school cafeteria. Ricky and Elizabeth also helped to start a program that allows students to bring home a backpack stuffed with pantry items so that they do not go hungry over the weekend.
Senator Hassan launched the "Granite Stater of the Month" initiative in 2017 to recognize outstanding New Hampshire citizens who go above and beyond to help their neighbors and make their communities stronger. To nominate a New Hampshire citizen to be a "Granite Stater of the Month," constituents can complete the nomination form here.
Click here and see below for a statement that Senator Hassan submitted into the Congressional Record recognizing Elizabeth Guillotte and Richard "Ricky" Mazur: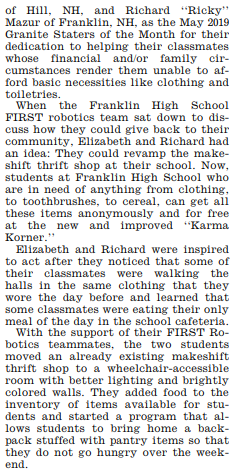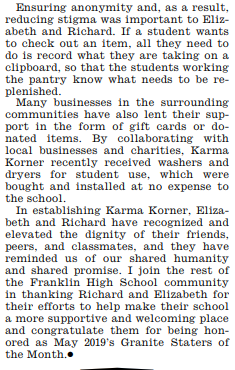 ###