Source: Nashua Telegraph, Adam Urquhart
WASHINGTON – Senator Maggie Hassan today recognized the team behind Nashua's Positive Street Art as the Granite Staters of the Month for August for their work remembering those lost to substance use disorders and supporting those undergoing treatment.
Since 2012, Positive Street Art has promoted the arts in Nashua through urban and public art projects, including murals, workshops, after-school programs, and events like the Downtown Arts Festival. Their newest mural, "Take Courage," is a tribute to those lost to the devastating opioid epidemic, as well as a symbol of support to those still on the road to recovery. The mural has come together primarily through the efforts of artists Tom Lopez and Manuel Ramirez, as well as through the support of Ric Everhard, Alison Bankowski, and community volunteers Alyssa O'mara, Victor Luce, Patrick Paraggio, Blake Bankowski, John Stein, Lance Isaksen, Paul Alvarez, Valerie Galvao, Ashley Young, and Jessica Ayala. 
Senator Hassan launched the "Granite Stater of the Month" initiative last year to recognize outstanding New Hampshire citizens who go above and beyond to help their neighbors and make their communities stronger. To nominate a New Hampshire citizen to be a "Granite Stater of the Month," constituents can complete the nomination form here. 
Click here and see below for a statement that Senator Hassan submitted into the Congressional Record recognizing Positive Street Art.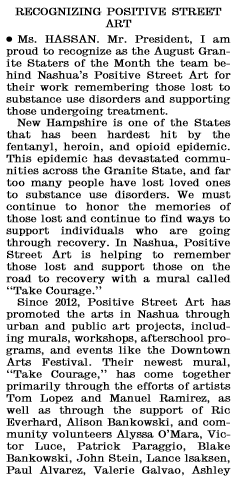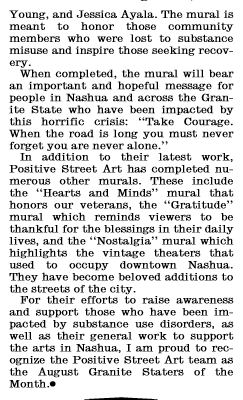 ###