January 14, 2019
Senator Hassan Takes to Senate Floor to Share Stories of Granite Staters Impacted by the President's Shutdown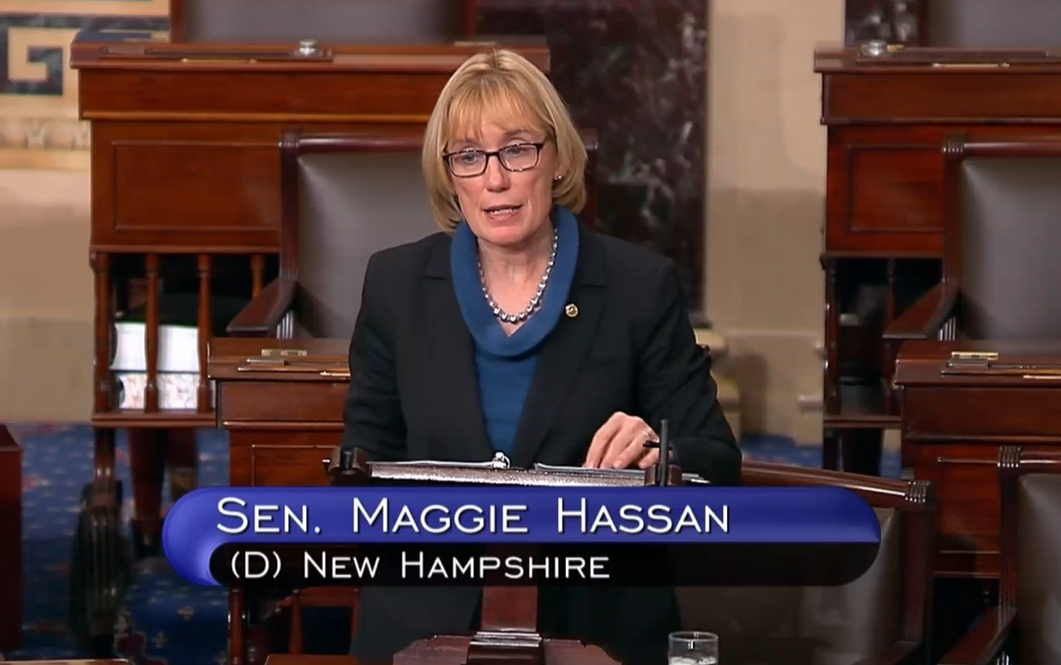 To watch Senator Hassan's speech, click here.
WASHINGTON – Senator Maggie Hassan today took to the Senate floor to share stories of Granite Staters who have been impacted by the President's senseless shutdown.
On the Senate floor, Senator Hassan shared the story of one constituent who has been an Air Traffic Controller for almost 19 years, whose mother's passing left her not only with heartache but also the stress and expenses of a funeral – on top of having to work on Christmas Eve and Christmas Day, which she still hasn't been paid for.
Senator Hassan recounted her story: "The government shutdown has been the last thing on my mind. But now, the realization of not being able to pay my mortgage, credit cards from Christmas-time, and now this funeral is too much to bear."
Senator Hassan also shared the story of a Granite Stater who works for the Internal Revenue Service (IRS) and wrote saying: "The prospect of not having a paycheck for an extended time is causing sleepless nights, and I am recovering an extended bout of pneumonia that ended up putting me in the hospital right before Christmas. My wife is worried about the bills for that. Last night, I worked pushing out the car payments. Today I applied for unemployment for the first time in 25 years, and talked to my mortgage company. All this was under control a month ago, but now has me worried, and is costing me charges and interest."
Lastly, Senator Hassan told the story of a woman who recently relocated to New Hampshire with her husband who serves in the Coast Guard. They spent every last penny to purchase their home in the state where they first met, and the shutdown has thrown the couple into financial turmoil.
"Since then, she and her husband have watched, hoped, and prayed that funding would come – because now they fear that they're going to have to call family members to beg to borrow money to pay their mortgage and not go into default," Senator Hassan said.
Senator Hassan concluded, "The President's politically motivated crisis is devastating for too many hard-working families in New Hampshire and across the country. And they deserve better than being used as pawns for a campaign slogan created by President Trump. It is time for these games to stop, for the President's shutdown to end, and for our government to reopen."
In December, Senator Hassan joined her colleagues in voting for a bill that would have funded the government – a deal that the President killed. Since then, she has called on the Senate Leader to bring a funding bill forward for a vote and supported legislation to protect Granite Staters and Americans from the impacts of the shutdown. She helped introduce bipartisan legislation, which is now on its way to the President's desk for signature, that would ensure that any furloughed government employee from this shutdown or any future ones will be paid retroactively as soon as appropriations are restored, and also joined in introducing the Federal Employee Civil Relief Act, which would protect federal workers and their families from foreclosures, evictions, and loan defaults during a government shutdown. Senator Hassan also cosponsored a bill that would fund Coast Guard operations – including pay for members of the Coast Guard – during lapses in appropriation. On Friday, Senator Hassan visited two non-profits in New Hampshire - the Nashua Soup Kitchen and the Community Action Partnership (CAP) of Strafford County – which provide those in need with shelter, food, and support – and are now in danger of being unable to provide services that are a critical part of the safety net.
###
---
---
Next Article
Previous Article