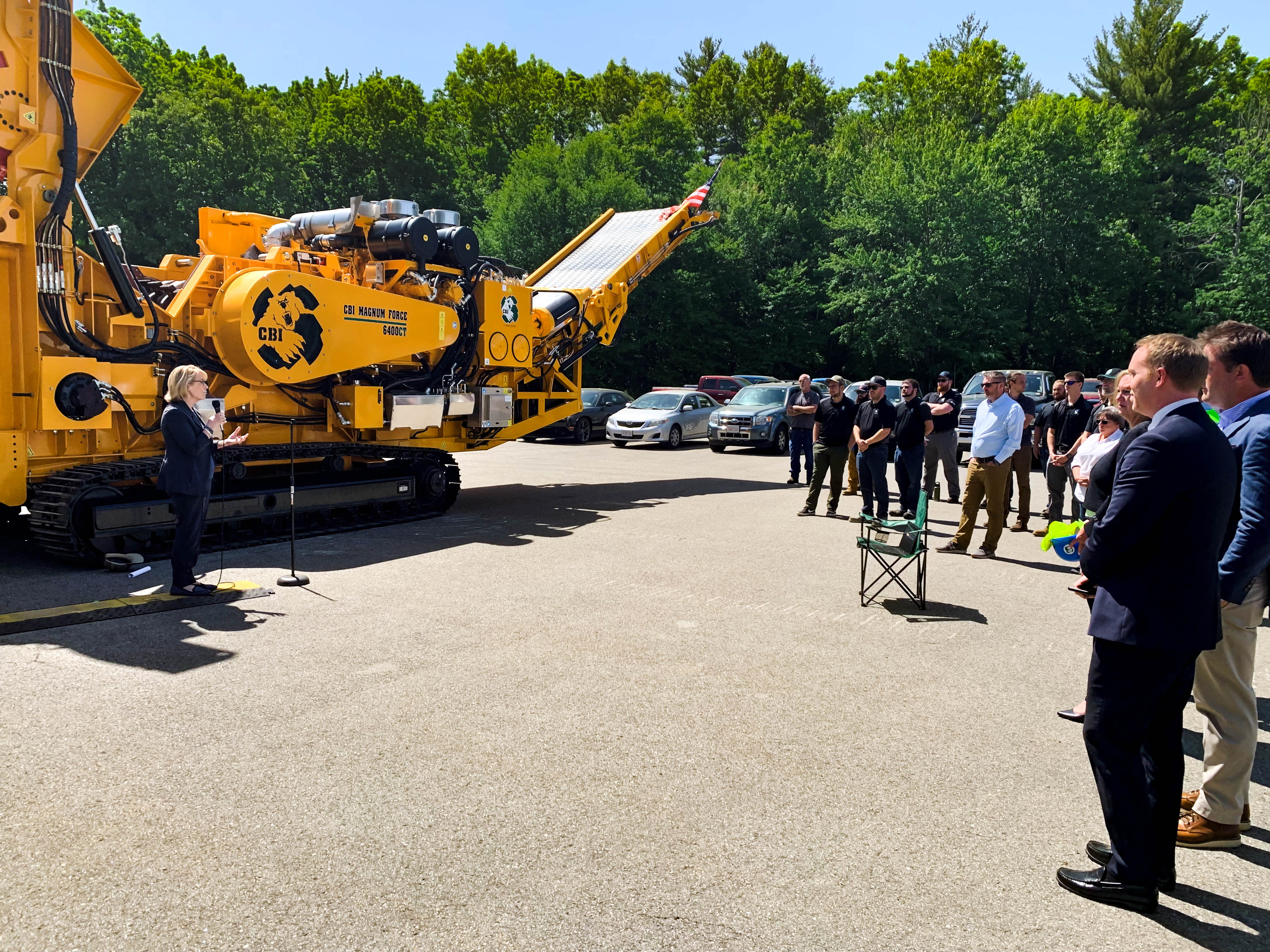 NEWTON – Senator Hassan today discussed her work to develop and pass comprehensive legislation to invest in American manufacturing, strengthen supply chains, and outcompete countries like China during a visit to CBI – A Terex Brand, a member of the Association of Equipment Manufacturers. The business designs, manufactures, and supports machinery and other products necessary for construction, energy, recycling, and other industries.
"It was great to tour CBI today and learn more about the work that they do to support businesses, strengthen our economy, and create good jobs," said Senator Hassan. "I am focused on addressing the high costs and supply chain challenges that businesses like CBI are facing. I appreciated the opportunity to speak with CBI and the Association of Equipment Manufacturers leaders and employees today about our bipartisan effort in Congress to invest in American manufacturing, strengthen supply chains, and outcompete countries like China."
"CBI was honored to host Senator Hassan and give her a first-hand look at modern manufacturing at our Newton facility," said Nate Fuller, CBI operational general manager. "We are grateful for her bipartisan efforts to strengthen and expand manufacturing in New Hampshire and ensure that the men and women of CBI A Terex Brand can continue to do what they do best: design, build, and support world-class equipment for customers around the world."
"AEM greatly appreciates Senator Hassan's steadfast focus on strengthening U.S. equipment manufacturing, increasing our global competitiveness, and providing more opportunities for the 2.8 million men and women who make the equipment that build, power, and feed the world," said Kip Eideberg, AEM's senior vice president of government and industry relations. "At a time of rising geopolitical risk and increasing competition from abroad, it is imperative that our elected officials set aside their differences and swiftly reach agreement on legislation that will enable the United States to better compete in the global economy and create more family-sustaining jobs in America."
Senator Hassan is working to strengthen supply chains. She was part of the original group of bipartisan Senators to introduce the American Innovation and Jobs Act, which would strengthen and expand American R&D, help boost domestic manufacturing, and help U.S. businesses outcompete foreign manufacturers, and she is now working with her colleagues on finding agreement on a comprehensive package to get signed into law. Senator Hassan was also one of the 22 original legislators who helped negotiate the bipartisan infrastructure package into law last year, securing investments for the country's highways and ports that will help ease supply chain bottlenecks and strengthen the transportation of goods.
###