July 06, 2017
Senator Hassan Visits Dartmouth Regional Technology Center, Emphasizes Importance of Supporting New Hampshire's Innovative Businesses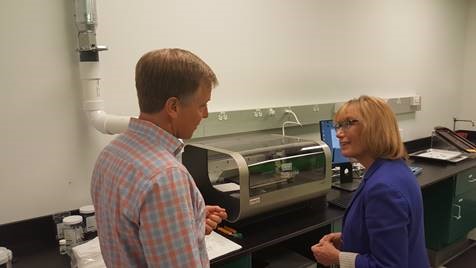 Senator Hassan at FreshAir Sensor with CEO Trip Davis.
LEBANON – Yesterday, Senator Maggie Hassan visited the Dartmouth Regional Technology Center, where she met with innovative business leaders, highlighted the importance of supporting New Hampshire's entrepreneurs, and discussed a bill she introduced to build on those efforts – the Reigniting Opportunity for Innovators (ROI) Act. During her visit, Senator Hassan met with employees of Celdara Medical, Mobile Virtual Player, Avitide, and FreshAir Sensor.
"The Dartmouth Regional Technology Center is providing important support to innovative start-ups such as Celdara Medical, Mobile Virtual Player, Avitide, and FreshAir Sensor that are creating good jobs, attracting talent to our state, and moving our economy forward while developing cutting-edge products and services that make a profound difference in our lives," Senator Hassan said. "To continue supporting New Hampshire's entrepreneurial ecosystem, we must help relieve the burden of student loan debt that is keeping too many young entrepreneurs from launching innovative new businesses. The ROI Act will take common-sense steps to decrease the burden of student loan debt and allow the next generation of entrepreneurs to thrive."
"We are grateful to have a leader like Senator Hassan fighting for innovative businesses like ours in the U.S. Senate," said Trip Davis, CEO of FreshAir Sensor and Chair of Dartmouth Regional Technology Center Board of Trustees. "We fully support the ROI Act, which would help countless entrepreneurs who are weighed down by the burden of student loan debt turn their ideas into successful businesses, and we hope to see this important bill move forward as quickly as possible."
The ROI Act helps provide the student loan debt relief necessary for young entrepreneurs to start up and grow innovative small businesses. The bill allows founders and full-time employees of small business start-ups certified by Small Business Development Centers to have their federal student loan payments and interest accrual deferred for up to three years while launching a start-up. If the start-up is located in an economically distressed area, founders and employees who make twenty-four monthly payments will also be eligible for cancellation of up to $20,000 in student loans.
###
---
---
Next Article
Previous Article