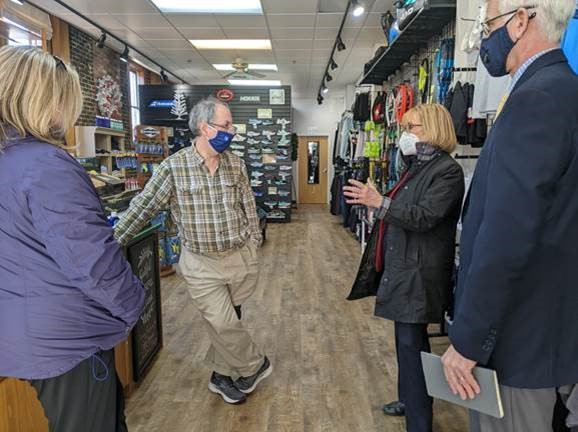 EXETER – Today, U.S. Senator Maggie Hassan visited downtown Exeter businesses to speak with local business owners ahead of Small Business Saturday.
The Senator was joined by Jen Wheeler, President of the Exeter Area Chamber of Commerce; Rachael Roderick, Deputy District Director at the NH Small Business Association; and Ed Miles, Seacoast Regional Director respectively for the NH Small Business Development Center. They stopped by George & Phillips, Water Street Bookstore, Exeter Jewelers, and Laney & Lu.
"New Hampshire has the best small businesses in the country, and I loved getting the chance to visit a few here in Exeter ahead of Small Business Saturday," said Senator Hassan. "From getting a child their first baseball glove to buying a favorite book for a friend, we know that small businesses are a vital part of our communities. I encourage Granite Staters to visit small businesses in their area as they do their holiday shopping this year."
Earlier in the day, Senator Hassan attended the annual U.S. Marine Corps Toys for Tots Kickoff in Manchester and Nashua Soup Kitchen and Shelter's Annual Turkey Distribution.
Senator Hassan is working across the aisle to support small businesses. The American Rescue Plan, which President Biden signed into law earlier this year, includes the bipartisan Recovery Startup Assistance Act that Senator Hassan introduced to provide payroll assistance through the Employee Retention Tax Credit to new small businesses started during the pandemic. The second economic package that the House passed includes a bipartisan amendment authored by Senator Hassan to double the R&D tax credit for startups and small businesses. Senator Hassan was also recently recognized by the U.S. Chamber of Commerce for her efforts to promote and support New Hampshire's businesses.
###