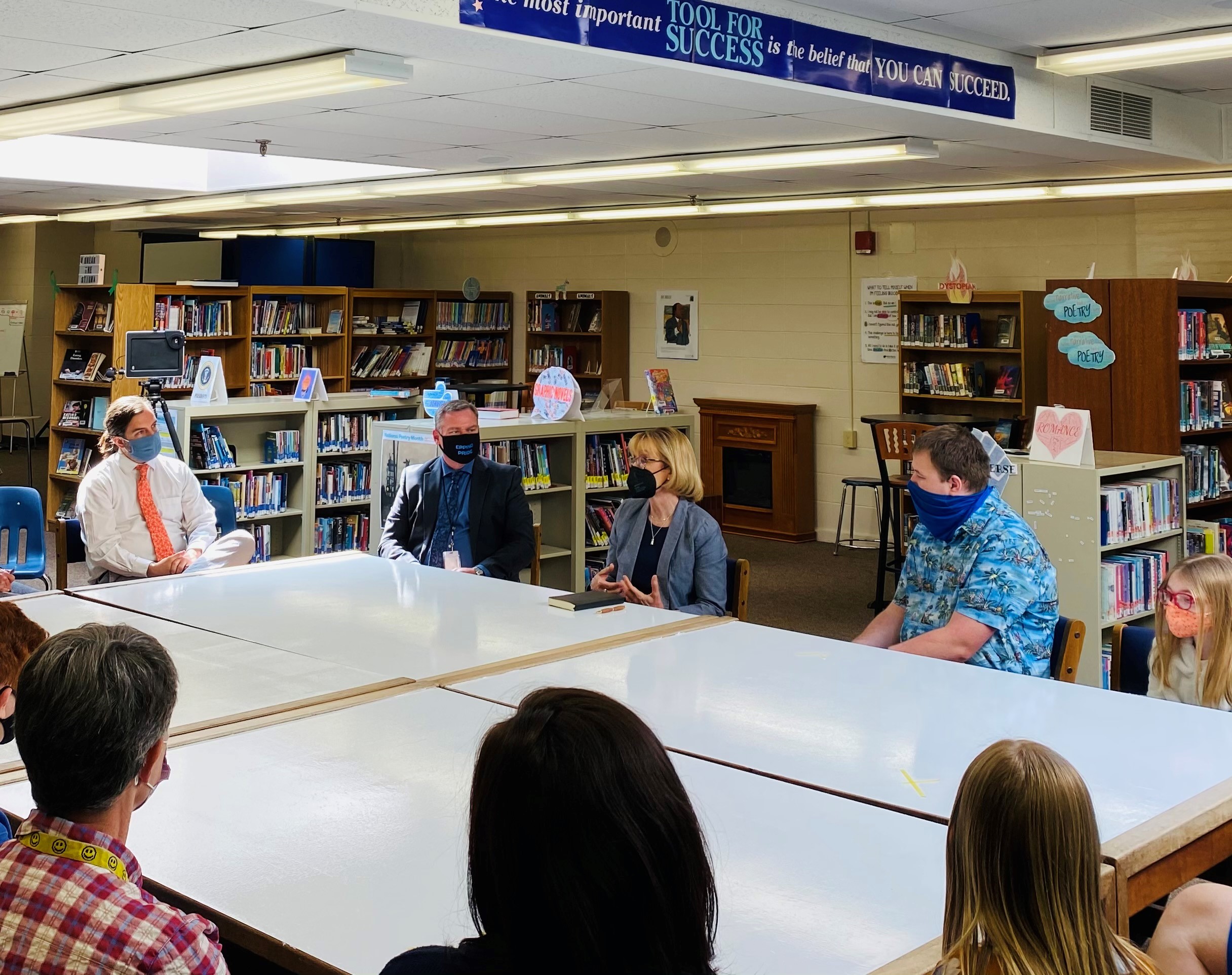 Senator Hassan visits Epping High School.
EPPING – U.S. Senator Maggie Hassan today spoke with students, teachers, and administrators from Epping School District about their experiences during the COVID-19 pandemic and how the federal relief funding that the school district has received is supporting students and teachers.
"This pandemic has been incredibly difficult for students, teachers, and parents across New Hampshire," said Senator Hassan. "I appreciated the opportunity to visit students, teachers, and administrators in Epping to hear how they are using federal funding to meet students' academic and social and emotional needs during this difficult year. As we see the light at the end of the tunnel of this pandemic, I will continue working to ensure that students across New Hampshire have the support that they need to complete their education and thrive."
"We were honored to have Senator Hassan visit and to share with her our school community's extraordinary response to the COVID pandemic, and we appreciated having the opportunity to highlight our successes and the challenges that we've faced over the past year," said Bill Furbush, Superintendent of Epping School District. "Throughout the school year, students, teachers, staff, and the entire Epping Community have come together to make safe, in-person instruction possible. We appreciate the federal funds we received that have allowed us to purchase needed equipment and supplies to safely reopen and plan to use future federal funds to make long-term improvements which will address air quality issues in our buildings."
School administrators and teachers also shared how the school is using federal funding to strengthen social and emotional learning programs. In addition, Epping School District utilized federal funding to set up a mobile library that went into students' neighborhoods to bring them books while the school's library was closed because of the COVID-19 pandemic, and told Senator Hassan that given the success of the program, they plan to continue to operate the mobile library after the pandemic.
As a member of the Senate Health, Education, Labor, and Pensions Committee, Senator Hassan has led efforts to secure federal funding to support New Hampshire students and teachers. Epping School District received $365,937 through the December relief and government funding package, which Senator Hassan worked to negotiate and pass into law. The district also received $132,341 from the CARES Act that passed into law last March. Additionally, the American Rescue Plan that Senator Hassan helped pass into law provided $350,500,000 to New Hampshire schools to better support students. In addition, Senator Hassan recently joined Senator Joni Ernst (R-IA) in introducing  the bipartisan Suicide Training and Awareness Nationally Delivered for Universal Prevention (STANDUP) Act to address rising youth suicide rates.
###