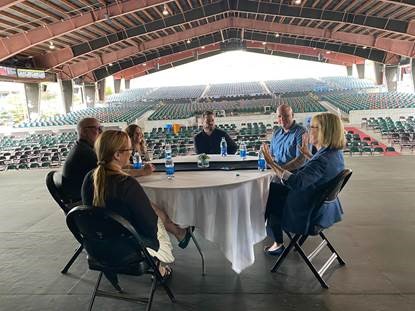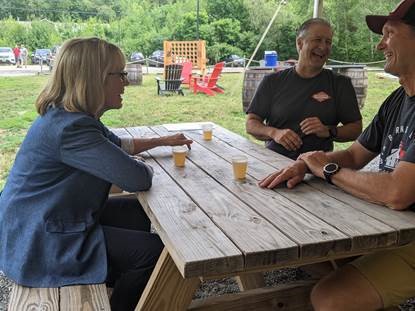 Senator Hassan visits Bank of New Hampshire Pavilion (left) and Twin Barns Brewery (right).
NEW HAMPSHIRE – U.S. Senator Maggie Hassan visited the Bank of New Hampshire Pavilion in Gilford and Twin Barns Brewery Co. in Meredith today to discuss their recovery from the COVID-19 pandemic and plans for the summer. During the visits, Senator Hassan heard from the businesses about the importance of the COVID-19 relief that Senator Hassan helped secure, and how this funding is helping them recover and keep their doors open safely.
"During the pandemic, breweries, entertainment venues, and other New Hampshire businesses have had to work hard to adapt and stay afloat. These local businesses are part of the fabric of our communities and bring people together while strengthening our economy and creating good-paying jobs," said Senator Hassan. "But as everyone knows, the pandemic took an incredible toll on our business community -- causing major financial losses as they followed public health guidance and saved lives. It's why I am committed to working across the aisle to make sure Granite State businesses can get the relief that they need, when they need it."
During her visit to the Bank of NH Pavilion, Senator Hassan met with the entertainment venue's senior leadership and staff to discuss their experience responding to the COVID-19 pandemic and plans to fully reopen the venue this summer. After having to cancel the venue's entire 2020 season due to the COVID-19 pandemic, the Bank of NH Pavilion held its first show on May 29, 2021 and is scheduled to open to full capacity on July 24th. 
"The COVID-19 pandemic has created a really challenging environment for entertainment venues across the country, including ours, and I'm grateful to Senator Hassan for her efforts to secure critical relief for New Hampshire's hardest-hit businesses. We're looking forward to fully opening up our stage this summer and using this federal funding to help with our recovery," said RJ Harding, General Manager of Bank of NH Pavilion.
Following advocacy by Senator Hassan to expand the Employee Retention Tax Credit (ERTC) to the hardest-hit large employers in the American Rescue Plan, entertainment venues like the Bank of NH Pavilion will be able to access much needed relief starting this month. Senator Hassan is pushing the Internal Revenue Service to get this much-needed relief out the door as quickly as possible and provide guidance to businesses that reflects the changes to the Employee Retention Tax Credit in the American Rescue Plan.
Afterward, Senator Hassan traveled to Meredith where she visited Twin Barns Brewing Company, a microbrewery founded in 2018. During her visit, Senator Hassan toured the brewery with co-founders Dave Picarillo and Bruce Walton and shared a beer flight with the co-founders in their beer garden. The co-founders discussed with Senator Hassan how they were able to utilize Paycheck Protection Program (PPP) loans to stay afloat during the pandemic and the positive impact of permanently extending the reduction in excise taxes for craft breweries. Senator Hassan has been a cosponsor of the bipartisan Craft Beverage Modernization and Tax Reform Act since her first year in federal office and helped permanently extend this tax relief in the 2020 year-end COVID-19 relief package.
Senator Hassan also heard from the co-founders about the importance of investing in broadband infrastructure. Senator Hassan recently reintroduced bipartisan legislation to help states, cities, and towns spur investment in rural broadband projects. Senator Hassan also successfully worked to include $7 billion in funding for the E-Rate program in the American Rescue Plan, which will direct funds to help schools provide Wi-Fi hotspots, modems, routers, and internet-enabled devices, including internet service through such equipment, to students.
"Despite the challenges of the COVID-19 pandemic, here at Twin Barns Brewing Company, we have continued to do what we do best—bringing folks together over a glass of our handcrafted beer. We're glad to have someone like Senator Hassan who is fighting to protect small brewpubs like ours and understands the value that a brewery can bring to a community. During this tough year, we've been thrilled to take advantage of the permanent extension of tax cuts for craft breweries and be able to access critical PPP loans," said Dave Picarillo, co-founder and co-owner. 
Senator Hassan is committed to providing small businesses with the support that they need to innovate and thrive. The American Rescue Plan, which President Biden signed into law earlier this year, includes the bipartisan Recovery Startup Assistance Act that Senator Hassan introduced to provide payroll assistance through the Employee Retention Tax Credit to new small businesses started during the pandemic. The December COVID-19 relief and government funding package also included bipartisan legislation introduced by Senator Hassan to allow eligible small employers to both participate in the Paycheck Protection Program and also claim the Employee Retention Tax Credit to help keep workers on payroll and pay for their health care coverage. Senator Hassan was also recently recognized by the U.S. Chamber of Commerce for her efforts to promote and support New Hampshire's businesses.
###