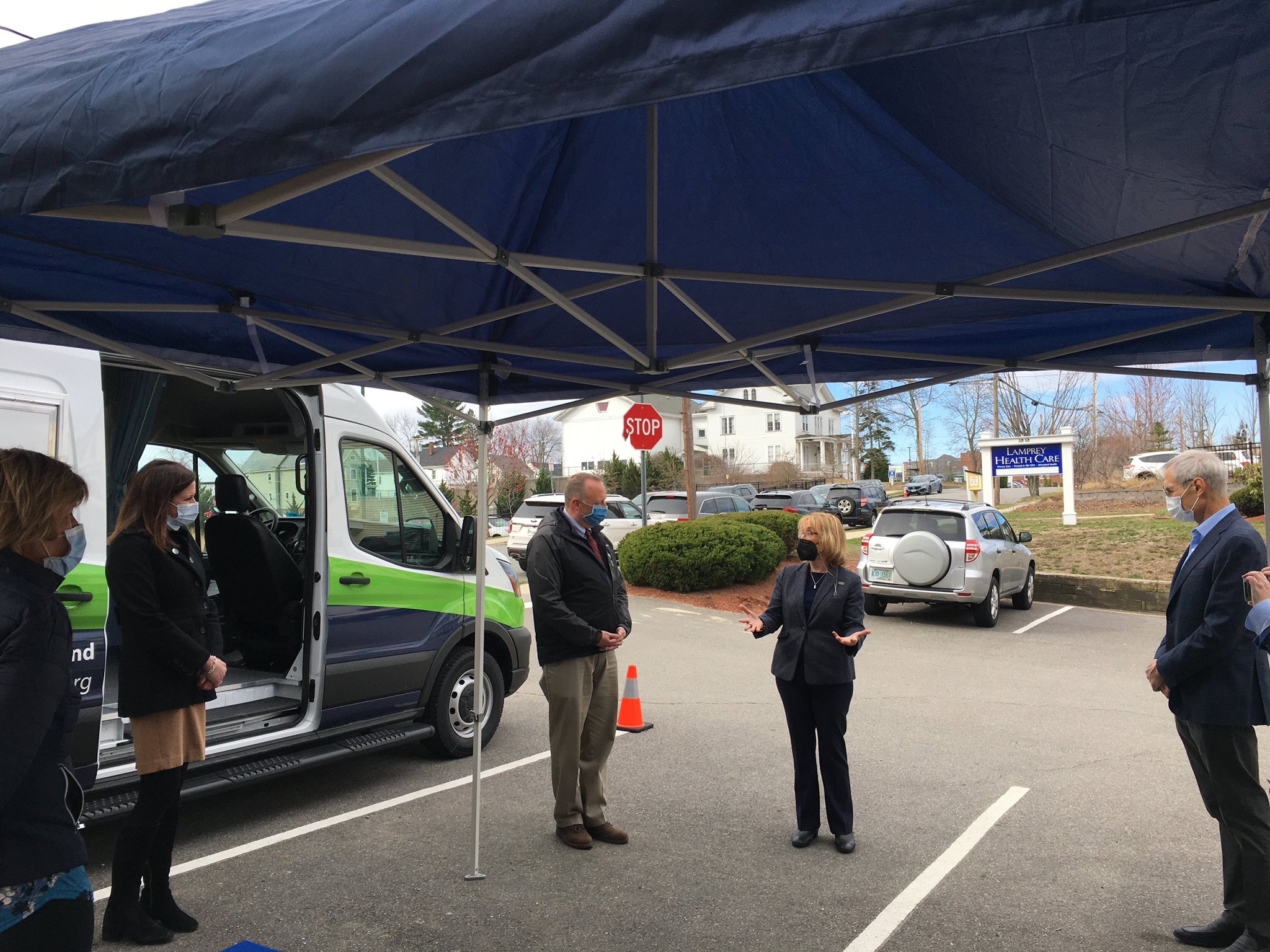 [From Left to Right] Francine DeSalvo, Site Administrator; Sue Durkin, Chief of Clinical Services; Greg White, CEO; Senator Maggie Hassan; and Mayor Jim Donchess at Lamprey Health Care Mobile Health Unit
NASHUA — Yesterday, U.S. Senator Maggie Hassan visited Lamprey Health Care to see its Mobile Health Unit, which was purchased through funding that the center received through the federal CARES Act. The Mobile Health Unit is providing critical primary health, as well as COVID testing and vaccinations, to underserved communities in Nashua and on the Seacoast. Senator Hassan recently joined the rest of the delegation in announcing that New Hampshire received an additional $20 million in vaccine funding for New Hampshire community health centers, including more than $3 million to Lamprey Health Care.
"It was a pleasure to see Lamprey Health Care's new Mobile Health Unit, which was made possible through funding from the CARES Act and will help get more shots into arms, especially for Granite Staters who may be at higher risk if they get COVID," said Senator Hassan. "We know that in order to get through this pandemic, we must continue making vaccines more easily accessible, and I appreciated seeing how Lamprey Health Care is a part of these efforts."
Senator Hassan also met with fire fighters at Nashua Fire Station 4 to discuss the additional relief that the Senator helped secure in the American Rescue Plan to support fire stations in New Hampshire. Senator Hassan led efforts to include $300 million in the American Rescue Plan for FEMA grant programs that provide resources to fire fighters across the country to help with hiring, retention, and critical supplies.
"During the COVID-19 pandemic, fire fighters have continued risking their own lives on the job while facing greater health risks," said Senator Hassan. "I had the chance to thank them today for their dedication and service, and I will continue to work to get the funding that we secured out to our New Hampshire fire stations."
###