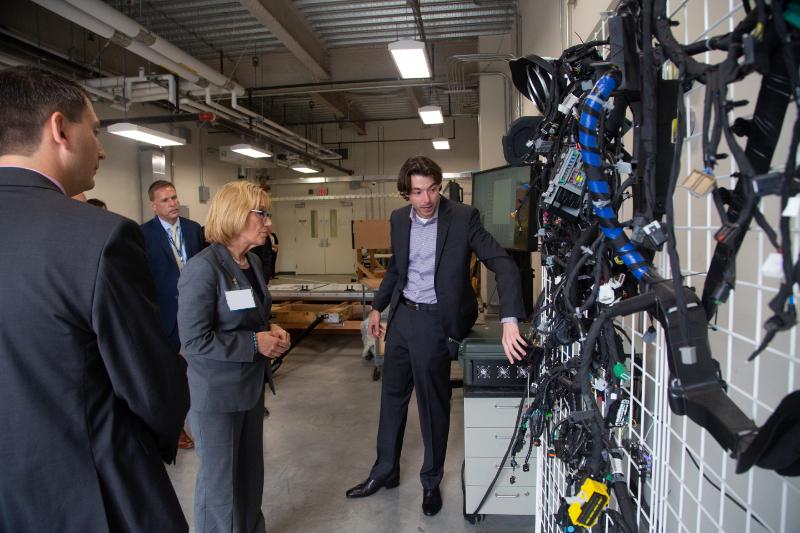 Senator Hassan discusses embedded systems security for vehicle threats and vulnerabilities at MITRE Corporation.
BEDFORD, MA – Senator Maggie Hassan today visited MITRE Corporation, where she highlighted the critical research and development work of the non-profit and the role it plays in helping to keep Granite Staters and Americans safe, secure, and free through the development of innovative technologies. Senator Hassan toured the facility and met with its scientists and researchers about their efforts to invent technologies to help better detect underground smuggling tunnels and to prevent the hacking of internet-connected technologies, and about MITRE's efforts to use advanced analytics to combat the opioid crisis, as well as their research on bolstering cybersecurity.
"Through its research and development work, MITRE is tackling some of our country's most pressing challenges and helping keep Granite Staters and Americans safe," Senator Hassan said. "I am focused on working with members of both parties to support the important work of MITRE, including providing new tools and information to help fight the deadly opioid epidemic and bolstering our nation's cybersecurity in the face of ever-evolving threats. I'll keep supporting the independent research and development that will help solve some of the world's biggest challenges."
"We welcome Sen. Hassan and appreciate her commitment to strengthening homeland security, making our transportation networks safer, and combatting the opioid crisis," said MITRE Chief Operating Officer Peter Sherlock. "Today's tour of MITRE's Border Protection and Transportation Safety & Security labs, as well as meeting with local New Hampshire-based employees, highlight the unique role of Federally Funded Research and Development Centers in solving the nation's biggest problems—from using advanced analytics to combat the opioid crisis to studying cybersecurity adversary behavior." 
MITRE is a not-for-profit organization that operates research and development centers sponsored by the federal government. To learn more about MITRE click here.
In an effort to bolster the nation's cybersecurity defenses, Senator Hassan recently teamed up with Senator Rob Portman (R-OH) to introduce a bipartisan bill that will make permanent the "cyber hunt" and "cyber incident response" teams that work to help prevent cyberattacks on federal agencies, critical infrastructure, and the private sector, as well as help mitigate the impact of such attacks when they occur. The U.S. Senate this month also passed bipartisan legislation cosponsored by Senator Hassan that will provide a consistent set of resources for small businesses to best protect their digital assets from cybersecurity threats. The bill has been signed into law. As part of her efforts to combat the devastating opioid epidemic in the state, Senator Hassan along with fellow New Hampshire Senator Jeanne Shaheen, helped secured an additional $22.9 million in federal funding for the remainder of this fiscal year for New Hampshire to battle the opioid epidemic.
###