NORTH CONWAY – U.S. Senator Maggie Hassan visited the Gibson Center for Senior Services yesterday where she received a briefing and tour of the center, and joined Carroll County Retired and Senior Volunteer Program (RSVP) staff and volunteers to serve meals to members of the community.
During American Rescue Plan negotiations, Senator Hassan worked to secure robust flexible assistance for state and local governments, including for Carroll County, to help ensure that local governments could support organizations, such as the Gibson Center for Senior Services and Carroll County RSVP, that are responding to the unique local needs in their community. Thanks to the Senator's advocacy, Carroll County received more than $9.5 million in flexible funding through the American Rescue Plan, and the County recently distributed approximately $20,000 to Carroll County RSVP and $50,000 to the Gibson Center.
"It was a pleasure to join RSVP volunteers to serve meals at the Gibson Center and see firsthand how American Rescue Plan dollars are supporting the needs of the North Conway community," Senator Hassan said.
"Thanks to Senator Hassan's efforts, the Gibson Center is able to use American Rescue Plan funding to help improve our facilities and install a new heating and ventilation system that meets Covid air quality standards," said Marianne Jackson, Executive Director of the Gibson Center for Senior Services. "We thoroughly enjoyed having Senator Hassan join us, tour the Gibson Center, learn about our expanding efforts for seniors and become one of our Congregate Meal volunteer servers at lunch. It was an honor."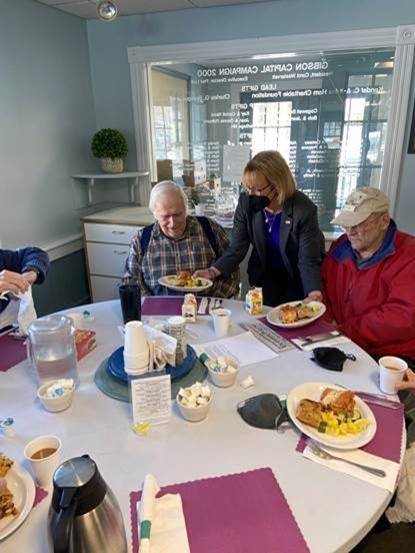 Senator Hassan serves meals at the Gibson Center.
Later in the day, the Senator visited Memorial Hospital where she spoke with hospital staff about how they've been managing the surge in COVID-19 cases and hospitalizations.
"Memorial Hospital's doctor, nurses, administrators, and support staff – along with New Hampshire National Guard members – are doing incredibly important work to keep Granite Staters safe, and I am grateful for their bravery and professionalism," Senator Hassan said. "I will continue to do all that I can to ensure that Memorial Hospital and health care workers across our state have the support that they need, and I encourage all Granite Staters to get vaccinated and boosted."
"I am so proud of how the team at Memorial has worked throughout the pandemic, and we were excited to share that with Senator Hassan and show how we've been balancing surges in COVID cases and hospitalizations while maintaining services for other routine and emergent patient needs," said Art Mathisen, President of Memorial Hospital. "The pandemic has placed an enormous strain on hospitals across the state, and Senator Hassan is working to get our health care system the support that it needs to get through this challenging time."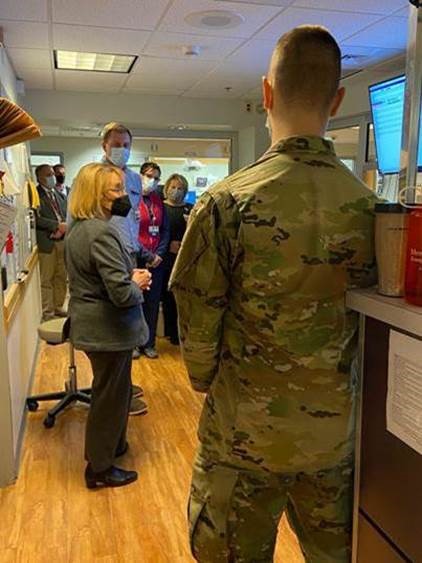 Senator Hassan at Memorial Hospital.
The Senator also visited the New England Ski Museum North Conway location and toured the museum, which features exhibits that tell the long history of skiing in the region.
Senator Hassan visits New England Ski Museum North Conway.
###