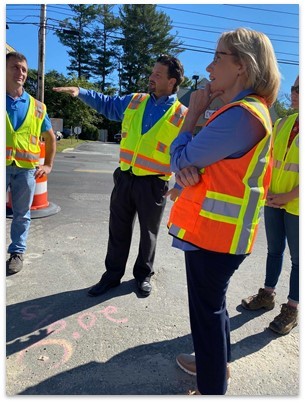 Senator Hassan visits ongoing construction efforts at Salem Depot intersection.
SALEM – U.S. Senator Maggie Hassan today visited the ongoing construction efforts at Salem Depot intersection at Broadway and Main Street to highlight the need for infrastructure investments in New Hampshire. The project, which aims in part to expand the intersection in order to improve vehicle and pedestrian safety, is set to be completed this year. Senator Hassan was part of the bipartisan group that worked to negotiate and pass through the Senate a once-in-a-generation infrastructure package that would provide historic investments to repair and modernize the country's transportation infrastructure.
"The construction efforts at the Salem Depot intersection are an example of how infrastructure investments can help improve the lives of Granite Staters and visitors alike. It was great to see firsthand how transportation improvement projects are helping our families, communities, and economy in Salem, and I'm pleased that the Senate recently took a major step forward in expanding support for those kinds of community efforts by passing a once-in-a-generation infrastructure package," said Senator Hassan. "Critically, this bipartisan legislation makes a record $110 billion investment to fix roads, bridges, and highways, as well as to improve road safety."
The reconstruction project at Salem Depot intersection will make both aesthetic improvements to the intersection and improve traffic flow by widening the roadways and encouraging people to walk to nearby destinations, rather than drive. It also aims to help emergency vehicles pass through the intersection more quickly when they respond to calls on the west side of town.  
###