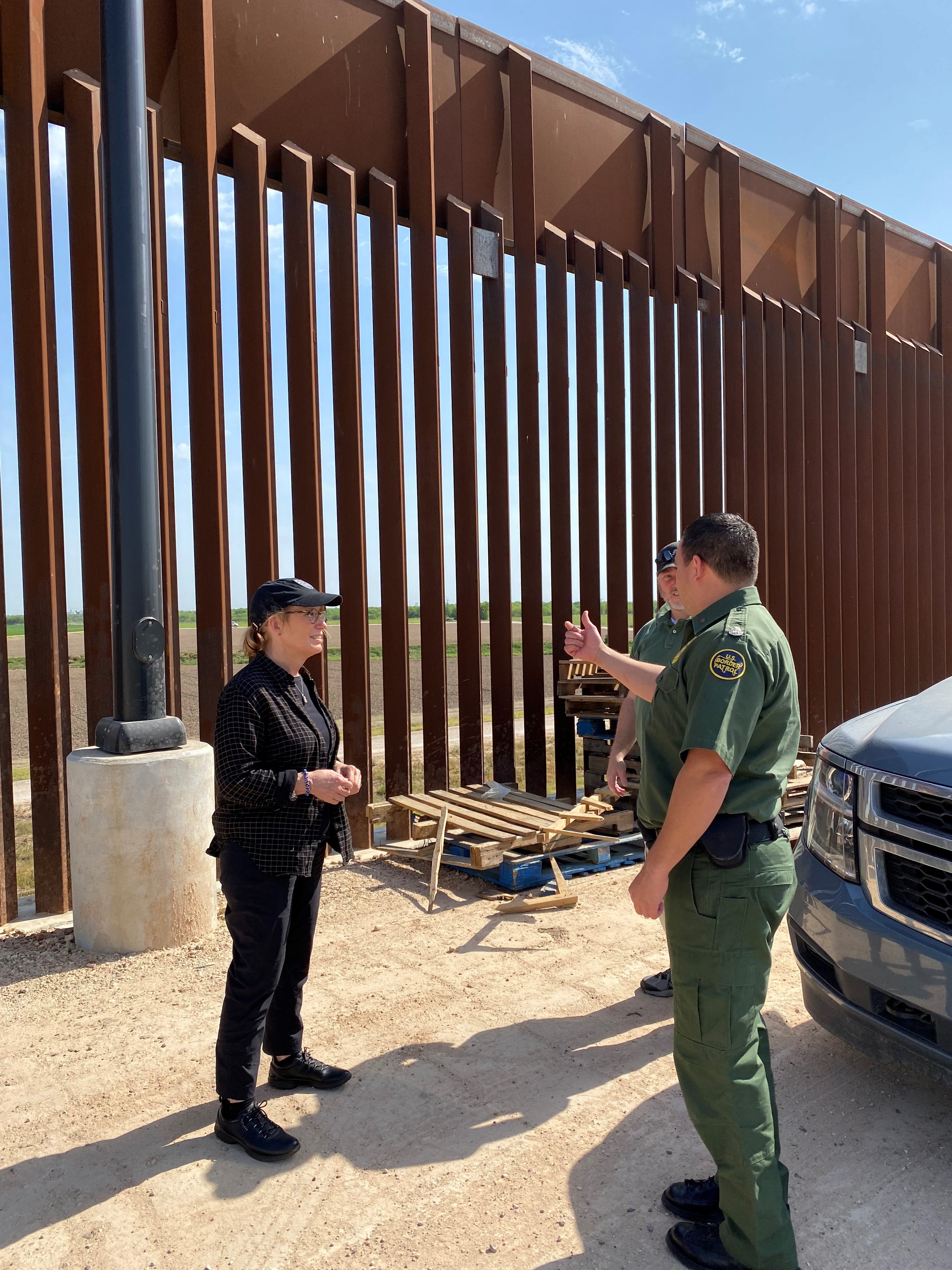 Click here for more high-quality photos of Senator Hassan's trip to the southern border.
WASHINGTON – U.S. Senator Maggie Hassan (D-NH) took her third trip to the southern border this week as a senior member of the Senate Homeland Security Committee and spoke with border agents about supporting their mission amid a steep increase in attempted border crossings.
"On my third trip down to the border as a senior member of the Homeland Security Committee, I heard from border agents about the urgent need for additional resources – including personnel, technology, and physical barriers – to help ensure that we have safe, secure, and humane borders," Senator Hassan said. "In particular, I appreciated hearing from border agents about their efforts to stop unlawful border crossings, and the technology that they use to secure the border and intercept illegal drug trafficking. I will continue working across the aisle to help ensure that our border agents have the support that they need to carry out their critical mission and will keep pressing the administration for a comprehensive plan to strengthen border security and deliver additional resources to the border, which is especially important given its recent announcement to end Title 42."
On Friday, the Senator toured the new McAllen Centralized Processing Center in McAllen, Texas and heard from Border Patrol agents about the challenges that they have faced in vetting and processing an historic number of migrants, as well as their need for additional technology to assist with drug interdiction efforts and to prevent illegal border crossings. Later, the Senator observed the Rio Grande Valley border from the air and heard from air and marine operations agents about the complexities of immigration enforcement along this portion of the border.
On Saturday, the Senator traveled to Nogales, Arizona to visit the Mariposa Port of Entry to hear from Customs and Border Protection officers about their work to facilitate lawful travel and trade, and what steps they are taking to interdict illegal drugs at ports of entry. The Senator also toured the border and received a briefing from Border Patrol stationed in the area.
The Senator's trip follows the administration's announcement that it will end Title 42, which was put in place at the beginning of the pandemic to restrict border entries during a public health emergency. Senator Hassan recently joined her colleagues on both sides of the aisle to introduce legislation to require all COVID-19-related national states of emergency to be lifted before Title 42 is officially terminated.
Senator Hassan is working across the aisle to strengthen border security as a member of the Homeland Security and Governmental Affairs Committee. The recent government funding bill that Senator Hassan helped craft included $23 billion to help Customs and Border Protection and Immigration and Customs Enforcement address the high volume of migrants at the southern border, and the bipartisan infrastructure law that Senator Hassan helped negotiate included $3 billion to strengthen border security.
Senator Hassan also worked with her colleagues to pass into law the bipartisan INTERDICT Act, which has provided critical tools to Customs and Border Protection to help detect and intercept fentanyl and other illegal synthetic opioids. Senator Hassan also recently led a field hearing in Manchester through her role as chair of the Emerging Threats Subcommittee to examine ways that Congress can help support law enforcement's efforts to stem the flow of drugs into community, including at the Southern border.
###