January 29, 2018
Senator Hassan Visits Texas Instruments, Meets with Employees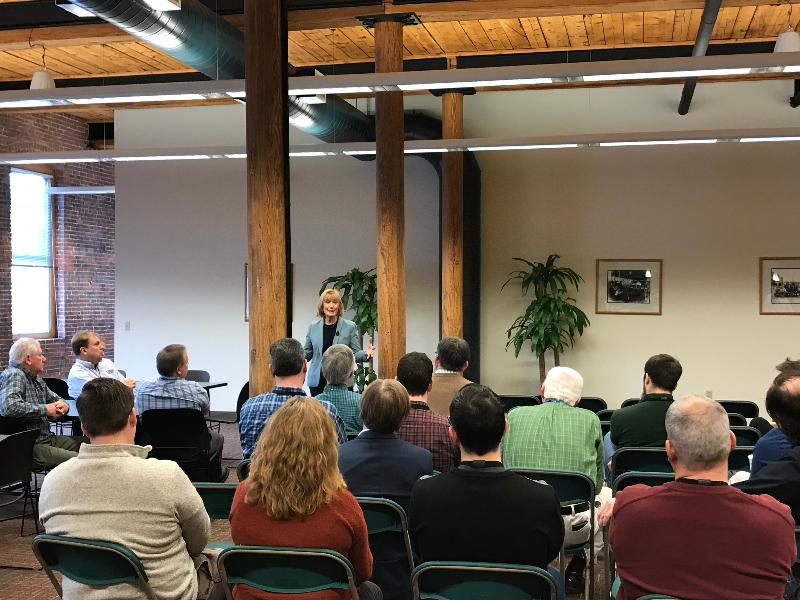 Senator Hassan speaks to employees at Texas Instruments in Manchester.
MANCHESTER – Senator Maggie Hassan today visited Texas Instruments, a global semiconductor design and manufacturing company in Manchester, where she met with employees and discussed her efforts to help ensure that job-creating businesses have the workforce they need.
"Innovative businesses like Texas Instruments help drive economic growth, creating good jobs for workers across New Hampshire and the country," Senator Hassan said. "We know that one of the primary challenges that innovative businesses are facing is finding a highly skilled workforce, which is why I have cosponsored bipartisan legislation to increase access to job training programs and foster apprenticeship opportunities. It was a pleasure to meet with the hard-working Granite Staters at Texas Instruments and discuss how we can work together to help businesses like theirs grow and thrive."
"Electronics around the world are powered by products designed right here in New Hampshire and used by the world's most innovative companies to do business and improve lives," said Jack Olson, Vice President and General Manager, Power Management DC Solutions Business Unit at Texas Instruments. "We are proud to help New Hampshire's economy grow and we are grateful for Senator Hassan's leadership on issues including building a stronger workforce that are critical to helping provide the skilled workers we need to thrive and grow. It was an honor to host Senator Hassan today and we look forward to working with her on the issues facing businesses like ours in New Hampshire."
Senator Hassan has cosponsored bipartisan legislation to help develop a strong workforce and expand economic opportunity for Granite Staters. The Jumpstart Our Businesses by Supporting Students (JOBS) Act and the Leveraging and Energizing America's Apprenticeship Programs (LEAP) Act would both increase access to job training programs and encourage employers and employees to take advantage of apprenticeship opportunities.
###
---
---
Next Article
Previous Article