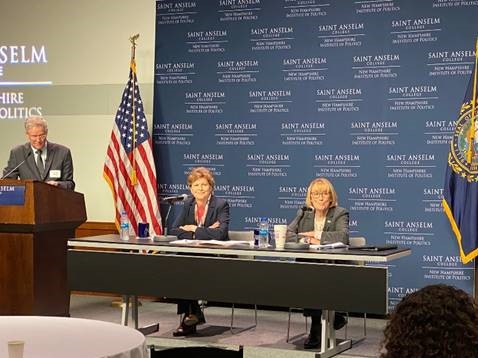 Shaheen and Hassan speak to the New Hampshire Commerce Corridor at St. Anselm's New Hampshire Institute of Politics earlier today.
(Manchester, NH) – U.S. Senators Jeanne Shaheen (D-NH) and Maggie Hassan (D-NH) provided a congressional update to the New Hampshire Commerce Corridor today, focusing on the impact of the bipartisan infrastructure bill that both Senators helped negotiate. The New Hampshire Commerce Corridor is an initiative comprised of seven regional Chambers of Commerce in central and southern New Hampshire, and works with the State of New Hampshire to address economic, workforce and employment opportunities for Granite Staters amid recovery efforts from the COVID-19 pandemic. Shaheen and Hassan addressed the crisis in Ukraine, impact of the bipartisan infrastructure bill in New Hampshire and continuing efforts to support COVID recovery in the State.
"Thank you to St. Anselm for hosting this forum and providing an opportunity for me to address the New Hampshire Commerce Corridor about ongoing efforts to support our State amid its recovery from the pandemic, the impact of the infrastructure bill in New Hampshire and the importance of the Ukrainian people's fight for freedom, and how that affects us here at home. Our State and nation have been through a trauma over the last two years, so as we work to rebuild - whether it's a small business getting back on its feet, working parents navigating affordable child care or health care workers staving off the feeling of burnout after years on the frontlines of this crisis - every effort must be made in Congress to provide the relief they need. Getting through the pandemic was step one, recovering is step two. Between the American Rescue Plan and the bipartisan infrastructure bill, we've made critical investments that are already coming to fruition in New Hampshire. Clean water, increased access to broadband and local projects underway are just the beginning," said Senator Shaheen. "As we fight our way back, it's difficult for Granite Staters to grapple with the effects of the war in Ukraine here at home, such as increased gas prices. Putin's unprovoked, premeditated violence carries implications for Ukraine, Europe and the United States. The Ukrainian people have inspired the world as they lead the fight to defend democracy. The U.S. will continue to stand by our Ukrainian partners and keep working with our European allies to punish Putin for his crimes."
"The infrastructure bill is a game changing investment for New Hampshire," said Senator Hassan. "We also know that there are new challenges that businesses have been facing, and that we have to strengthen our supply chains, not only for our own self-sufficiency, but also to make sure we can outcompete China or any other competitor on the global stage. While we're all focused on implementing the infrastructure bill and the oversight that is going to be needed to do that effectively, I'm also working with colleagues to craft and pass a comprehensive bipartisan package that would make major investments in American R&D and in manufacturing."
As negotiators of both the American Rescue Plan and Infrastructure Investment and Jobs Act (IIJA), Shaheen and Hassan have led action in the Senate to secure COVID-19 relief and infrastructure investments for New Hampshire to assist with recovery efforts and stimulate economic growth throughout the state.
###