WASHINGTON – In case you missed it, Senator Maggie Hassan this week secured a commitment from Federal Trade Commission (FTC) Chairman Joseph Simons and all other FTC commissioners that they will investigate "loot boxes" in video games, which allow for in-game purchases and surprise winnings that can encourage gambling-like behavior in children. The Senator's questioning in a Senate Commerce, Science, and Transportation subcommittee meeting on Tuesday has drawn significant national attention to the issue.
See below for clips from NBC News, the Washington Post, and more: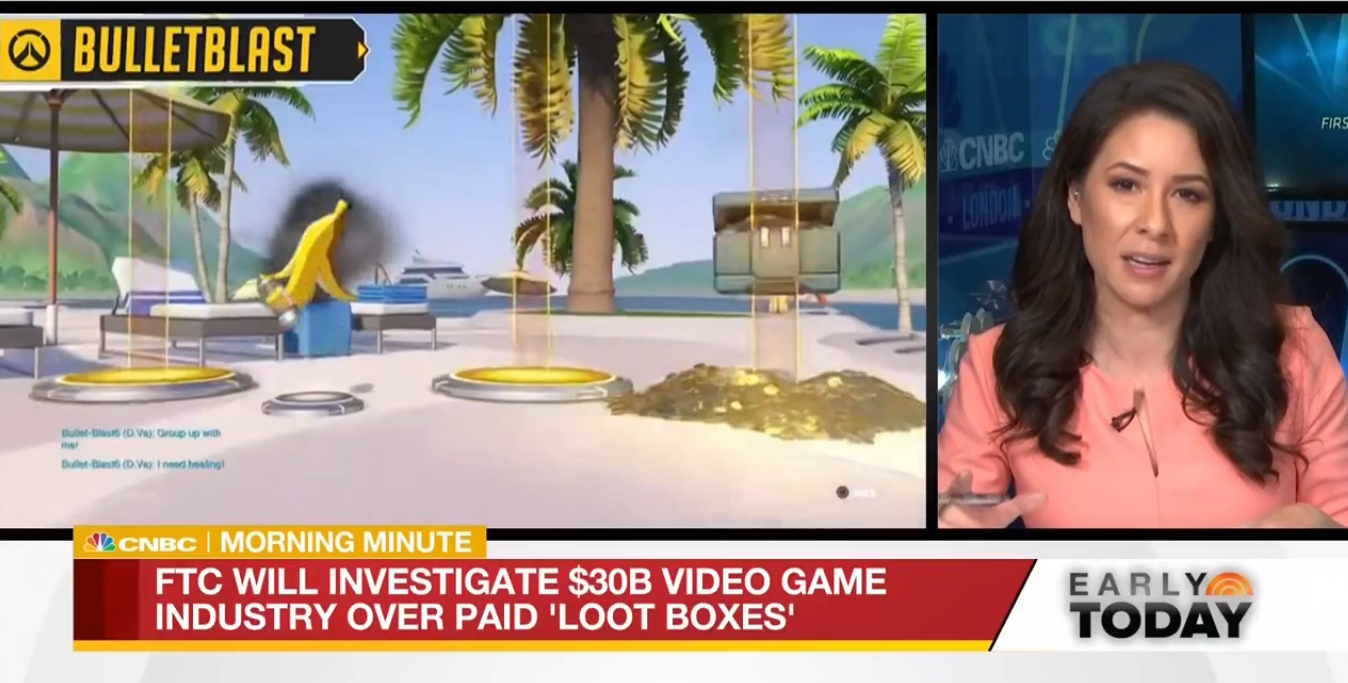 To watch NBC's coverage, click here.
Federal regulators have vowed to investigate a growing trend in video games that analysts say could soon become a $50 billion industry but that has drawn fire from critics who compare the practice to gambling.
Senior officials at the Federal Trade Commission, America's top consumer watchdog, said Tuesday that they will look more closely at loot boxes — the bundles of digital goods offered to players, often for a fee, that contain random assortments of in-game clothing, abilities or other rewards.
Asked by Sen. Maggie Hassan (D-N.H.) to probe the issue at an agency oversight hearing, FTC Chairman Joseph Simons said he would commit to launching a probe. The four other commissioners who testified also indicated their support.
Hassan said she was concerned that loot boxes have become endemic in the gaming industry and that by enticing players to spend ever increasing amounts of money rolling for random loot the practice showed a "close link to gambling."
"Children may be particularly susceptible to engaging with these in-game purchases, which are often considered integral components of video games," said Hassan […]
A growing backlash against video game "loot boxes" — in which players pay for the chance to win digital goods — has gained a major new backer: the Federal Trade Commission.
The commission's chairman, Joe Simons, said during a congressional oversight hearing on Tuesday that the regulator would look into the in-game loot boxes, a response that came after Sen. Maggie Hassan, D-N.H., sent a letter to the Entertainment and Software Ratings Board (ESRB) asking it to investigate loot box practices.
"The prevalence of in-game micro-transactions, often referred to as 'loot boxes,' raises several concerns surrounding the use of psychological principles and enticing mechanics that closely mirror those often found in casinos and games of chance," Hassan wrote in the letter. […]
The head of the International Game Developers Association is calling for the game industry to create a unified approach to its use of loot boxes in the wake of the Federal Trade Commission's decision to investigate the use of the randomized boxes in video games…
The call to action comes days after Senator Maggie Hassan (D-NH) called on FTC chairman Joseph Simons to investigate video game loot boxes to ensure that children are being protected and parents are educated on the matter.
That request landed about nine months after Hassan sent a letter to the Entertainment Software Ratings Board asking for the group to review the ratings process as it relates to loot boxes, examine the marketing of loot boxes to children, and put together best practices for developers around the toxic form of microtransactions. The senator also asked the board to conduct a study that further delves into the reach and impact of loot boxes in games. At the time, she said if they didn't take sufficient action she would ask the FTC to get involved…
"ESRB president, Patricia Vance, communicated with Senator Hassan about addressing in-game purchases in February 2018, while ESRB was in the process of adding a new interactive element – In-Game Purchases – to inform parents of when games offer the ability to purchase digital goods and premiums with real world currency, which officially launched in April 2018," according to a statement sent to Variety from an ESRB spokesperson. "ESRB also launched ParentalTools.org to help inform parents of additional tools, such as parental controls, to help them manage how much money (if any) can be spent on in-game purchases. We have not communicated with Senator Hassan on the matter since February."
Hassan told Variety that while she will work with the ESRB on the issue, the FTC should also look into the issue.
"While I have appreciated working with the ESRB on this issue, I have also said that the Federal Trade Commission has a responsibility to look at this issue," she said. "The need for FTC action becomes more apparent given the recent report from the Gambling Commission of Great Britain and the steps other countries have taken to regulate loot boxes. I hope the FTC will move quickly to begin their investigation and look forward to working with all parties on this issue." […]
On Wednesday (Nov. 27), New Hampshire state senator Maggie Hassan raised that very question with the US Federal Trade Commission during a congressional-oversight committee hearing. "Loot boxes are now endemic in the video game industry," Hassan said, "and are present in everything from casual smart phone games to the newest, high-budget releases. It's time for the FTC to investigate these mechanisms to ensure that children are being adequately protected."
Hassan asked the FTC "to educate parents about potential addiction and other negative impacts of these games," and called on the agency to "commit to undertaking this project." In reply, FTC chairman Joe Simons nodded and said "yes"—you can watch the full exchange here—but no additional details were provided. […]
###