LAWRENCE, MA – In case you missed it, Senator Maggie Hassan yesterday grilled executives from Columbia Gas and its parent company, NiSource, as well as federal regulators, regarding the natural gas pipeline explosions and fires that occurred on September, 13, 2018, in Lawrence, Andover, and North Andover, Massachusetts. The incident killed one person, injured more than two dozen, and damaged more than 100 structures, including 5 homes.
See below for highlights of the coverage:
WMUR: Utility officials grilled over Merrimack Valley gas explosions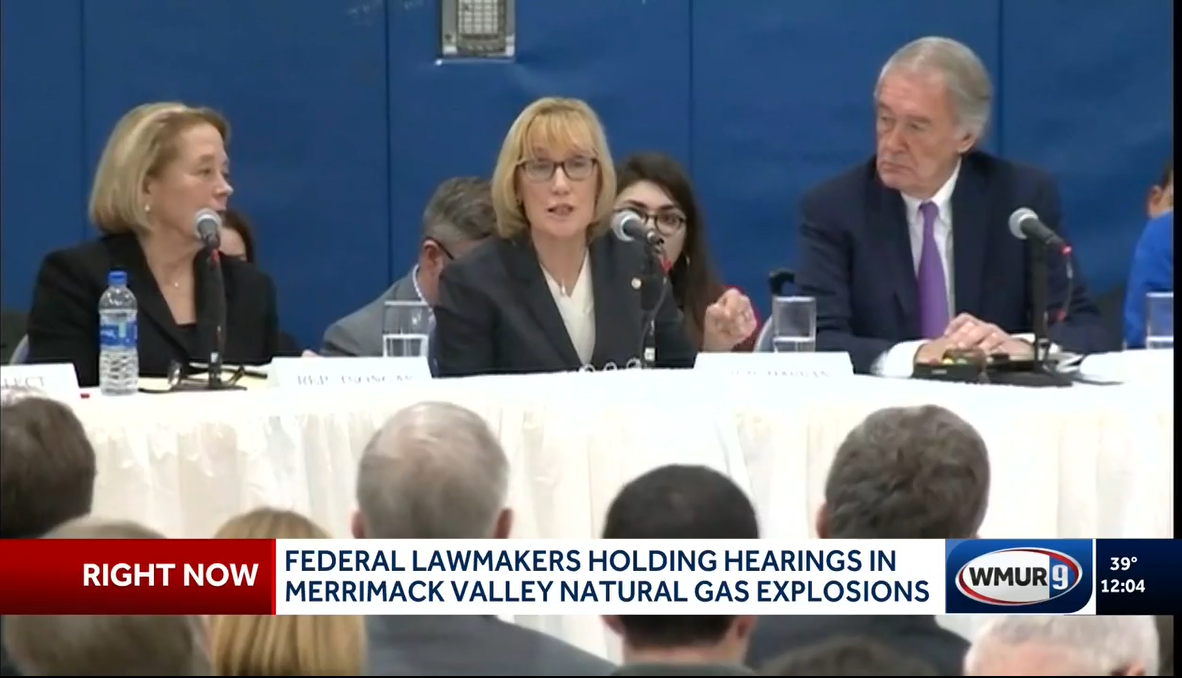 To watch the WMUR report, click here.
Calling this entire episode preventable, federal lawmakers met today in Lawrence and took aim at the response to the Merrimack Valley gas pipeline tragedy. [...] 
There were harsh words from lawmakers about the company's handling of the entire situation, from their initial response to the ongoing compensation of victims. [...]
Senator Maggie Hassan is one of the Committee members. She hopes we can learn from what's happened.
Senator Hassan: "What we heard today was really extraordinary. This was a company that says it had a culture of safety but it clearly didn't."
While Committee members say that this is the first meeting on this situation, it certainly will not be the last. 
Union Leader: Hassan grills gas company executives about September explosions in Lawrence, Mass.
U.S. Sen. Maggie Hassan, D-NH, questioned executives from Columbia Gas and its parents company, NiSource, along with federal regulators, about the natural gas pipeline explosions and fires that occurred in September in Lawrence, Mass., during a U.S. Senate hearing held Monday in the Merrimack Valley.
More than two months after gas explosions left one person dead, more than two dozen injured, and damaged more than 100 structures, including dozens of homes, Massachusetts lawmakers convened the hearing in Lawrence to hear from Columbia Gas executives, local leaders and others on recovery efforts.
"This can't happen again," Sen. Hassan said. "And I'm sitting here saying that, and of course others have said that after other accidents, with your companies and others. It's 2018 in the United States of America and nobody should be worried when they come home at night that their house is going to explode."
Hassan pressed Paul Roberti, chief counsel for the U.S. Pipeline and Hazardous Materials Administration (PHMSA), about the agency's apparent lack of urgency in implementing numerous congressional mandates to improve safety standards and regulations for America's 2.6 million miles of pipeline. 
"We have a gymnasium full of people — and a much larger community full of people — whose lives have been forever changed by this tragedy," said Hassan. "And they are looking now to make sure that we do more than rely on the private sector to regulate itself. They are looking to their state and federal governments to step up and make sure that we implement the rules that we have. I would like your agency's guarantee that you will be initiating and pushing in ways that you haven't in the past, asking Congress, asking the administration for more resources if you need them, but this should not be an agency that is this woefully behind in implementing critical safety mandates that protect lives and the economy. Is that fair?"
In response, Roberti stated that he would commit his agency to meeting the congressional mandates and promised to share with states the findings of the Columbia Gas investigation in order to help states set standards to prevent another accident from occurring. […]
###