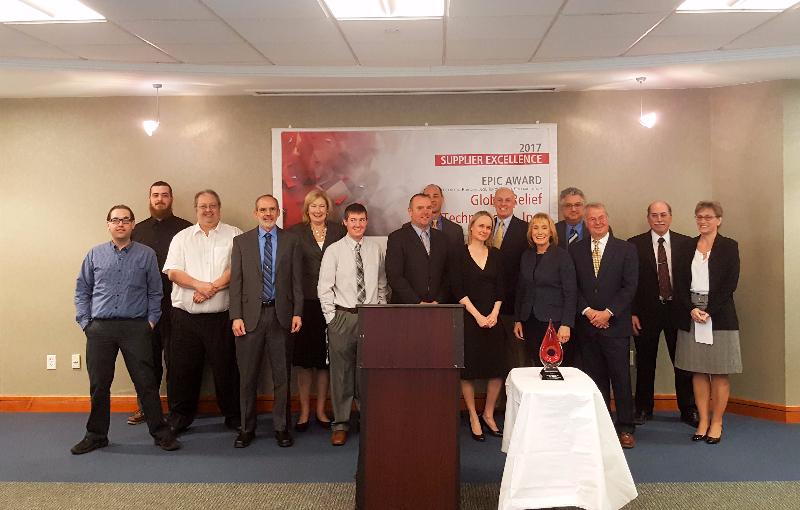 Senator Hassan with Global Relief Technologies employees 
WASHINGTON  - Senator Maggie Hassan visited Global Relief Technologies (GRT) today where she congratulated the innovative small business on receiving the Supplier Excellence EPIC Award from Raytheon.
GRT provides software and infrastructure support with Raytheon for a Department of Defense program, which includes monitoring and protecting a wide area around important locations and bases, such as those with U.S. personnel in the Middle East.  GRT has also provided extensive support for humanitarian projects and organizations, state and local authorities using the IT software and systems it developed. 
"Innovative small businesses like Global Relief Technologies are the backbone of New Hampshire's economy, driving economic growth and creating good jobs," Senator Hassan said. "Global Relief Technologies is one of many New Hampshire businesses that play an important role in helping to strengthen our national security and humanitarian efforts abroad, and I am honored to congratulate them on receiving the prestigious Supplier Excellence EPIC Award from Raytheon."
"GRT would like to thank Senator Hassan and Raytheon for their support, enabling a small business like ours to grow and provide world-class IT services that have protected U.S personnel and served many others over the years." added Alex Sorokin, CEO of GRT. 
As a member of the Committee on Commerce, Science, and Transportation, Senator Hassan is focused on critical economic priorities for New Hampshire's small businesses, including fighting for a free and open internet that ensures a level playing field, expanding access to broadband, and ensuring that small businesses have the tools necessary to better protect their digital assets from cyber security threats.
###