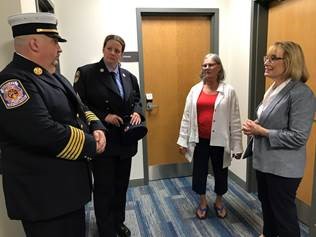 Senator Hassan tours North Conway's new fire station.
NORTH CONWAY – U.S. Senator Maggie Hassan attended the dedication ceremony for North Conway's new fire station today, which replaced the town's old fire station which had been standing since 1962. Following the dedication ceremony, the Senator joined additional state and local leaders in taking a tour of the newly-finished fire station.
"I was glad to attend the dedication ceremony for North Conway's new fire station, as well as thank our brave fire fighters who have been at the forefront of some of the biggest challenges facing our state, including the COVID-19 pandemic and the substance use disorder crisis," Senator Hassan said. "This new station provides much-needed updates to help North Conway's fire fighters better protect their communities and save lives. I also appreciate the hard work of everyone who worked through some of the most challenging months of the pandemic to make this new station a reality."
Senator Hassan is working to support fire departments across New Hampshire, and led efforts to include $300 million in the American Rescue Plan for Federal Emergency Management Agency (FEMA) grant programs that provide resources to fire stations across the country to help with hiring, retention, and critical supplies. Earlier this year, Senator Hassan visited fire stations in Berlin, Portsmouth, and Nashua to thank the fire fighters for their work and discuss ways the additional relief will help support fire stations.
###