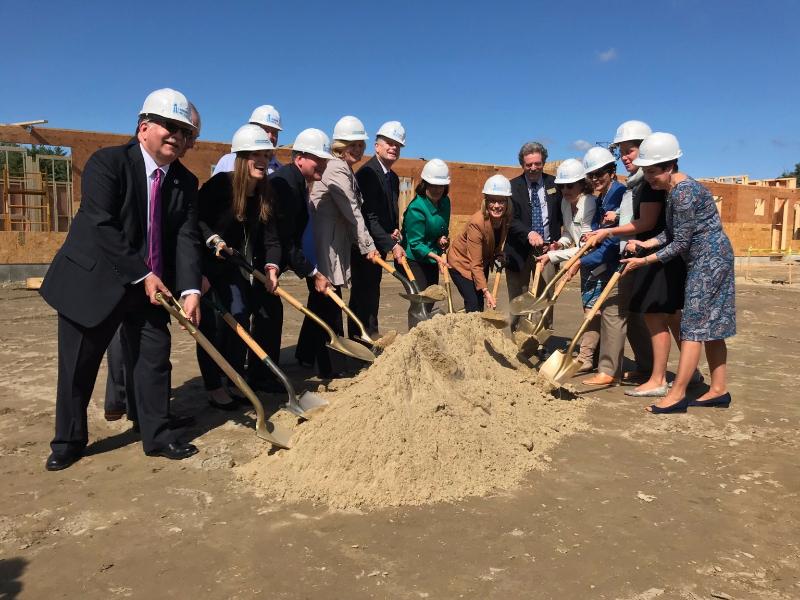 Senator Hassan attends groundbreaking ceremony for Boulder Point Veterans Housing project.
PLYMOUTH – Senator Maggie Hassan today participated in the groundbreaking ceremony for Boulder Point Veterans Housing project, where she applauded Harbor Homes, Partnership for Successful Living, and everyone who is making the project possible for their efforts to provide affordable housing to veterans and their families in the region. 
The Boulder Point Veterans Housing project, an affiliate of Harbor Homes in Nashua, will accommodate 25 one-bedroom apartments and five two-bedroom apartments for families. For more information about Harbor Homes, click here.  
"Our veterans, who have served bravely in defense of our country's freedoms, deserve a safe and affordable place to live," Senator Hassan said. "Boulder Point Veterans Housing will provide opportunities for our veterans by reducing homelessness and helping them live independently. I thank everyone at Harbor Homes and Partnership for Successful Living for their work on this important project and for all that they do on behalf of New Hampshire's veterans."
As Governor of New Hampshire, Senator Hassan worked with Harbor Homes on the Housing Choice Vouchers for Veterans Program to help veterans transition to permanent housing in the community, helping to open more beds to serve homeless veterans at Harbor Homes. In the Senate, Senator Hassan has continued her efforts to end veteran homelessness, including introducing bipartisan legislation to assist and empower women veterans, which included measures that will work to combat homelessness among women veterans. The Senator also cosponsored the Veteran Employment and Child Care Access Act, which would create a federal program to help ensure that veterans transitioning to civilian life can access affordable child care during their job seeking process, which is especially important for low-income veterans, those on the cusp of homelessness, or those already homeless. 
###